In view of the widespread protest against suspension of RPSL of Anglo Eastern Ship Management on 31 May 2023 by DG Order, Principal Officer of the Mercantile Marine Department, Mumbai, put hold on the DG order which came as a relief for the Shipping Company and all it's employees today.

Also Read Anglo Eastern RPSL Suspended Case – Live Updates & Full Story
This RPSL Suspension of Anglo Eastern's is a historic step and is a Major Setback for Anglo Eastern Ship Management which is significantly Impacting AESM's Operations
News of the Seamen's Employment Office (SEO) sudden decision to suspend the recruitment and placement service (RPS) License of Anglo-Eastern Ship Management (India) Pvt Ltd on 31 May 2023 came as a rude shock to the Indian ship management industry.
Official Statement by Anglo Eastern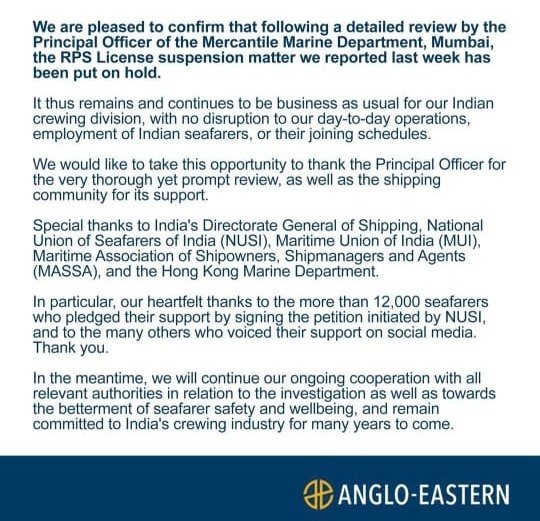 We are pleased to confirm that following a detailed review by the Principal Officer of the Mercantile Marine Department, Mumbai, the RPS License suspension matter we reported last week has been put on hold.
It thus remains and continues to be business as usual for our Indian crewing division, with no disruption to our day-to-day operations, employment of Indian seafarers, or their joining schedules.
We would like to take this opportunity to thank the Principal Officer for the very thorough yet prompt review, as well as the shipping community for its support.
Special thanks to India's Directorate General of Shipping, National Union of Seafarers of India (NUSI), Maritime Union of India (MUI), Maritime Association of Shipowners, Shipmanagers and Agents (MASSA), and the Hong Kong Marine Department.
In particular, our heartfelt thanks to the more than 12,000 seafarers who pledged their support by signing the petition initiated by NUSI, and to the many others who voiced their support on social media.
Thank you.
In the meantime, we will continue our ongoing cooperation with all relevant authorities in relation to the investigation as well as towards the betterment of seafarer safety and wellbeing, and remain committed to India's crewing industry for many years to come.
You may also like,