The Demand of LNG is increasing day by day due to Europe's cutting ties with Russia – which was there largest Exporter of the LNG. So as the demand of LNG is increasing, the demand of LNG carriers is also increasing. Due to increasing demand of the gas worldwide, the LNG Carriers Market Top Players like Misc Berhad (Misc), Teekay Corporation, Royal Dutch Shell PLC (Shell), Nippon Yusen Kabushiki Kaisha (NYK), Mitsui O.S.K. Lines Ltd (MOL) & Qatar Gas are ordering more LNG carriers to Shipyards.
This increased worldwide demand has prompted maritime developments to construct bigger and better LNG carriers.
What is LNG? Liquefied natural gas
Liquefied natural gas (LNG) is natural gas (predominantly methane, CH4, with some mixture of ethane, C2H6) that has been cooled down to liquid form for ease and safety of non-pressurized storage or transport. It takes up about 1/600th the volume of natural gas in the gaseous state (at standard conditions for temperature and pressure).
A LNG Ship carrier is a ship that is designed for the transport of liquefied natural gas in its chilled tanks. Worldwide there are around 360 of these advanced, specialized vessels that are used specifically for the transport of liquefied natural gas. Compared to conventional vessels, LNG carriers release less greenhouse gas emissions because of their natural gas-fueled propulsion system.
Since the gas is transported in its liquid form and because of their physical properties, they are transported either at pressures much greater than atmospheric pressures, at very low temperatures, or some combination of the two.
LNG is carried in carriers of numerous sizes & they have an LNG carrying capacity of more than 80,000 to 2,66,366 cubic m and are specifically designed to be energy-efficient, and meet international environmental norms regarding carbon emissions.
The highly portable nature of LNG makes its maritime transportation a lucrative economic activity with much scope of profit. Equipped with the latest maritime innovations and designed to perfection, these LNG tankers can operate in the toughest areas, such as the North Atlantic, filled with ice waters.
In this article, let us look at the world's biggest LNG Ships of 2023
Top 10 World's biggest LNG Ships of 2023
1. Qmax Ships – Nakilat's fleet
Qatar Gas, a prominent LNG company, operates Qmax Ships. The Qmax LNG carriers are the biggest in the world, wherein the name 'QMax' stands for the country of operation and the maximum size of the tanker able to dock at Qatar's LNG terminal facilities. These LNG tankers use a type of membrane technology that ensures maximum efficiency.
AL DAFNA – Biggest QMax LNG Carrier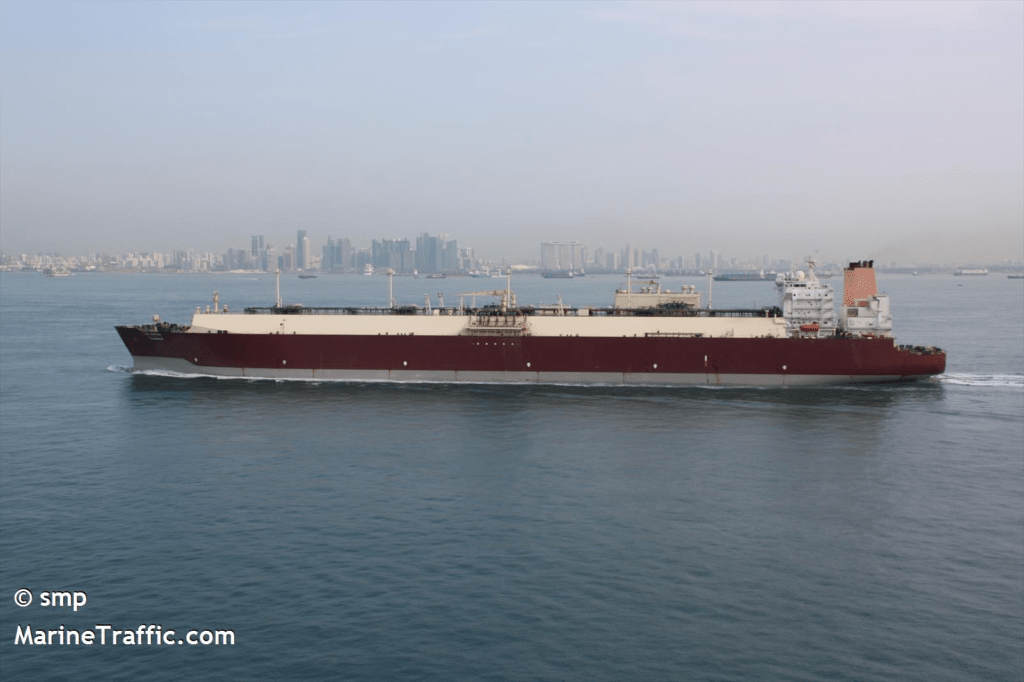 AL DAFNA (IMO: 9443683) is a LNG Tanker that was built in 2009 and is sailing under the flag of Marshall Is. Her carrying capacity is 266366 cu m3 Liquid Gas and her length overall (LOA) is 345 meters and her width is 53.83 meters.
More about QMax Ships: Qatar Gas owns 14 Q-Max Ships with a total LNG capacity between 26,3000 to 266,000 m3. The Q-max ships are around 354 m long and 55 m wide, with a maximum draft of 12 m. The construction of these vessels was part of an expansive fleet construction programme that evolved over five decades. These carriers were built in South Korea and currently transport LNG to all major port facilities worldwide.
The Q-Max ships are known not only for their size but for their other advanced features too. The ships' engines burn significantly fewer amounts of fuel compared to conventional carriers, hence producing 35% lesser carbon emissions. Another novel feature is the non-carbon fire-extinguishing system, the first to be used in an LNG carrier. Thus, these carriers have drastically reduced the costs of transportation.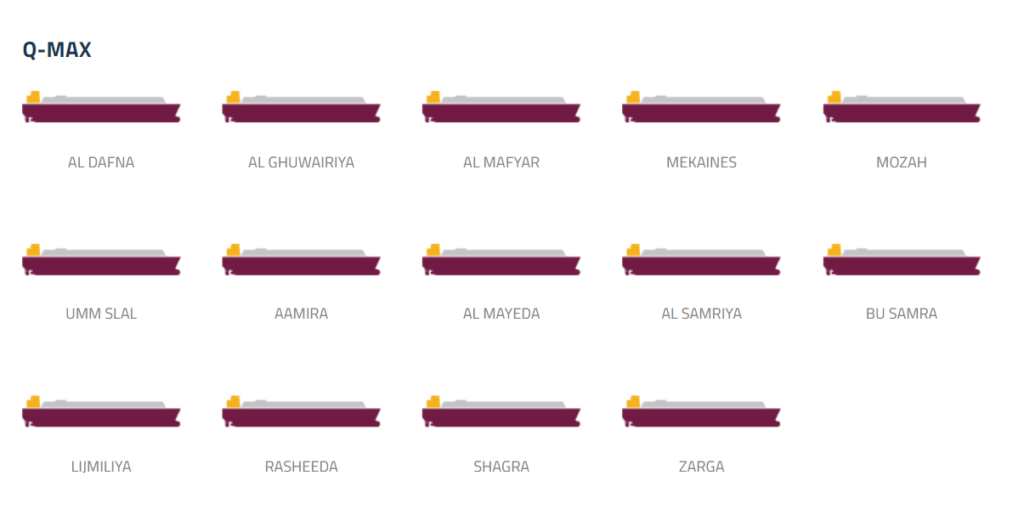 2. QFlex Ships
The QFlex ships' fleet operated by Qatar Gas comprises the second-biggest LNG carriers in the world. Until the Qmax-type ships were not in operation, these were the biggest LNG carriers, capable of carrying twice the amount of LNG carried by conventional tanker ships. The first Q-Flex ship was constructed by Hyundai Heavy Industries in 2007.
A total of 31 of these LNG Tankers carry LNG to regions like the Far East, Mediterranean, and Europe. Measuring 315 m lengthwise and 50 m breadthwise with a maximum draft of 11 m, these carriers have a carrying capacity of 210,000 to 217,000 m3. They are also claimed to be more environmentally sustainable than other LNG carriers since they have fewer fuel requirements and produce fewer emissions. They also possess re-liquefaction technology that decreases the loss of LNG from the ships' tanks. The earliest Q-flex vessels include Al Hamla, Al Aamriya, Al Huwaila etc.
AL GHASHAMIYA – Biggest QFlex LNG Carrier
AL GHASHAMIYA (IMO: 9397286) is a LNG Tanker that was built in 2009 (14 years ago) and is sailing under the flag of Marshall Is. Her carrying capacity is 211885 cubic meters Liquid Gas and her length overall (LOA) is 315.06 meters and her width is 50.03 meters.
3. Shinshu Maru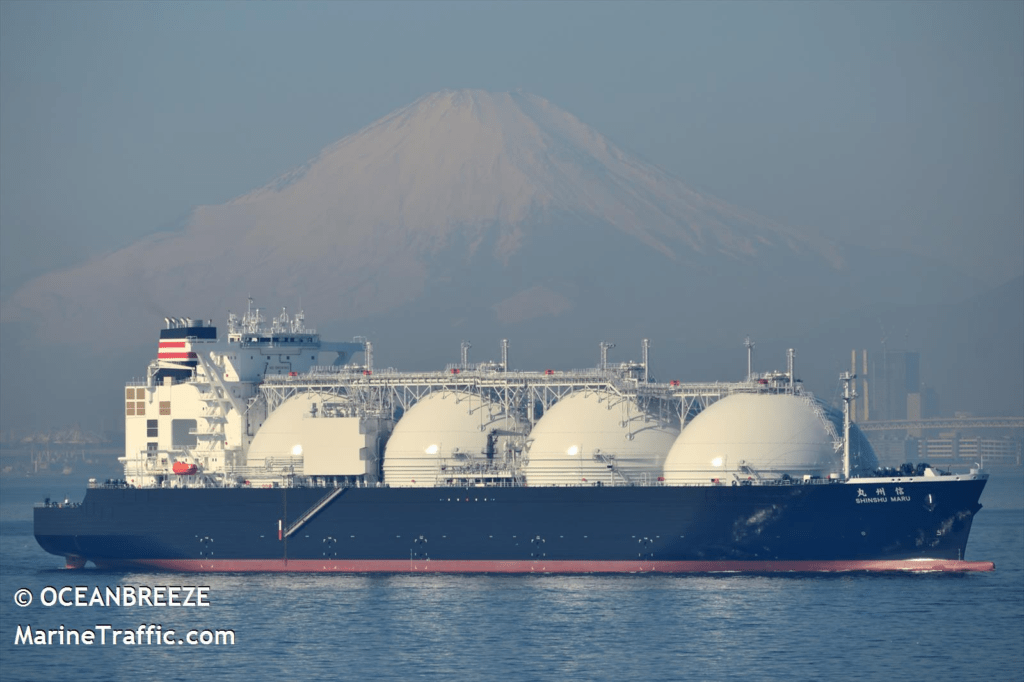 The LNG Tanker was built in 2019 (3 years ago) and is sailing under the flag of the Bahamas. Delivered by Kawasaki Heavy Industries, the Shinshu Maru was second in the line of 177,000 cubic meters LNG carriers. Her current draught is reported to be 9.8 meters. Her length overall (LOA) is 299.9 meters and her width is 48 meters.
The carrier has four separate moss-type tanks, which increases its capacity compared to conventional standards. In addition to being able to increase the capacity of the tank, and therefore docking with the main LNG terminals, the hull is designed to withstand any major damage to the LNG tanks. One of the ship's destinations is the Panama Canal, which expanded in 2016.
The Bahamas-flagged vessel is powered by a dual-fuel diesel (DFD) engine that can run on both oil and gas, so is also economical.
4. SCF Barents (Kool Firn)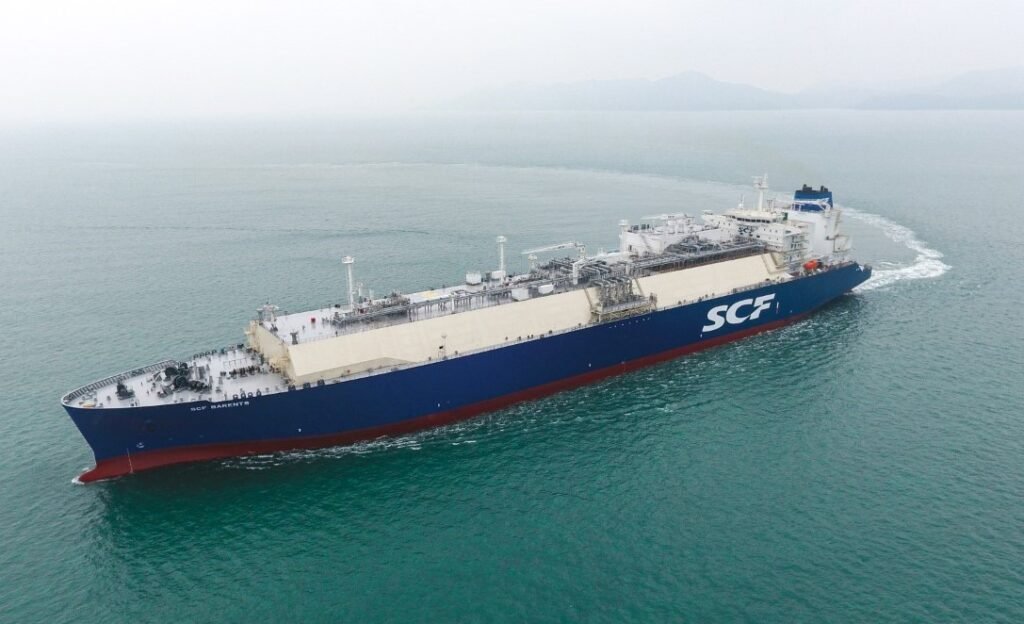 SCF Barrents recently changed name to KOOL FIRN (IMO: 9864746) is a LNG Tanker that was built in 2020 (3 years ago) and is sailing under the flag of Liberia.. Her carrying capacity is 174096 cubic meters Liquid Gas and length overall (LOA) is 299 meters and her width is 46.4 meters.
Russian shipping major Sovcomflot (SCF Group) has taken delivery of a newly built LNG carrier from the South Korean Hyundai Samho Heavy Industries shipyard. Barents is on its voyage under long-term time charter with Shell. The LNG carrier was named after Willem Barents, a Dutch navigator.
SCF Barents is the second vessel in a series of three 174,000-cbm new-generation Atlanticmax LNG carriers ordered by SCF Group in 2018. The first vessel of the series, SCF La Perouse, was delivered in February 2020.
Each LNG carrier is equipped with an advanced Mark III Flex cargo containment system, slow-speed dual-fuel X-DF engine, and a system that reduces nitrogen oxide emissions while the vessel sails in liquid fuel mode. In addition, all vessels of the series are among the first globally to feature a boil-off gas partial re-liquefaction system, which significantly reduces cargo losses while on long voyages or awaiting cargo operations.
5. LNG Schneeweisschen
The LNG Schneeweisschen is an LNG Tanker that was built in 2018 (4 years ago) and is sailing under the flag of Panama, has an LOA of 297.9 meters and a beam of 47.9 meters. It has exhibited a maximum speed of 22.4 knots.
LNG Schneeweischen is the first in a series of LNG carriers acquired by Mitsui OSK Lines Ltd under a contract with the German utility group Uniper. It has a reservoir capacity of 180,000 cubic meters, gross tonnage, and deadweight of 111,000 and 97,000 respectively.
One of the essential features of the Schneeweischen is that it is equipped with a low-speed two-stroke engine (X-DF) capable of running on natural gas, marine gas oil, and fuel oil. A much more exciting feature is the Total Reliquefied Methane Refrigeration System (MRS-F), which, together with the X_DF engine, returns the reliquefied excess boil-off gas to the LNG cargo tank, making it extremely economical.
6. Gail Bhuwan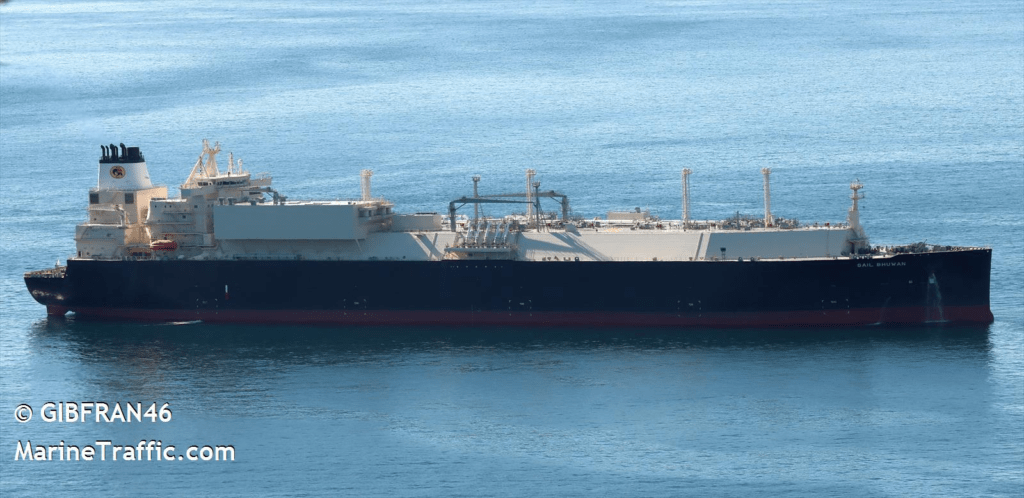 The LNG Tanker named Gail Bhuwan was manufactured in 2021 by Daewoo Shipbuilding & Marine Engineering Co., Ltd. for Gail Limited, the biggest LNG company in India. The tanker would transport LNG from US facilities to the Indian ports to meet India's LNG needs and expand this clean fuel market in the nation.
Currently, Gail Bhuwan is registered and is sailing under the flagship of Cyprus. A massive tanker laden with the latest maritime technology, it measures 297.9 m lengthwise and 47.9 m breadthwise, with a maximum draft of 11.5 m. The gross tonnage of the vessel is around 119891 tonnes, and its deadweight is 98300 tonnes. It has an LNG carrying capacity of 180,000 m3 and a maximum sailing speed of 20 knots, while an average speed of around 15.9 knots approximately. A membrane-type LNG tanker, it is operated by MOL LNG Transport Europe LTD.
GAIL has contracts for procuring LNG volumes from USA under two long term Sales and Purchase Agreements signed with US energy majors. The vessel will ship clean LNG fuel from the US Gulf Coast to India, for meeting the country's energy requirement and also to other markets globally.
7. Velikiy Novogorod
VELIKIY NOVGOROD (IMO: 9630004) is a LNG Tanker that was built in 2014 (9 years ago) and is sailing under the flag of Liberia. Her carrying capacity is 170200 cubic meters Liquid Gas and her length overall (LOA) is 299.9 meters and her width is 45.8 meters.
Gazprom, a multinational Energy Enterprise, owns an LNG fleet comprising 5 LNG tankers, of which 2, namely Velikiy Novgorod and Pskov, are the third-largest LNG carriers in the world.
The total LNG carrying capacity of both gas carriers is around 170,200m3. Both ships were designed to ensure high productivity while adhering to environmental norms and regard for maritime safety. They were designed by engineers from the Russian Maritime Register, United Shipbuilding Company and Gazprom.
It is the first of its kind, a special LNG carrier called Atlanticmax, with a thicker hull and other arrangements to cut through thick ice found in the region.
It is equipped with a dual-fuel propulsion system that enables it to operate in the iceberg region of the north. Her gross tonnage is reported to be 113876 tonnes while her deadweight is 93486 tonnes.
Sister Ship: The Pskov was also constructed in 2014 and is under the flagship of Liberia. Earlier known as P OSF and BCOV, she measures 299.9 m lengthwise and 45.8 m breadthwise.
8. Diamond Gas orchid
The ship launched in the year 2018 takes fourth place. The LNG Tanker Diamond Gas Orchid is 297 meters long and 49 meters wide. The vessel's gross tonnage is 14,828. Built by the Mitsubishi Shipbuilding Co. Ltd. and flagged under the Bahamas, the vessel is equipped with Sayaringo-STaGE next-generation LNG carrier.
The name Sayaringo comes from the shape of its tank, which resembles a pea pod (Saya) and an apple (Ringo). This technique reduces air resistance, thereby increasing speed, but at the same time increasing the capacity of the tank.
The highly efficient stage engine (steam turbine and gas engine) runs on both gas and liquid fuels, which ensures the high fuel efficiency of the power plant. It also promises to be environmentally friendly.
9. Flex Courageous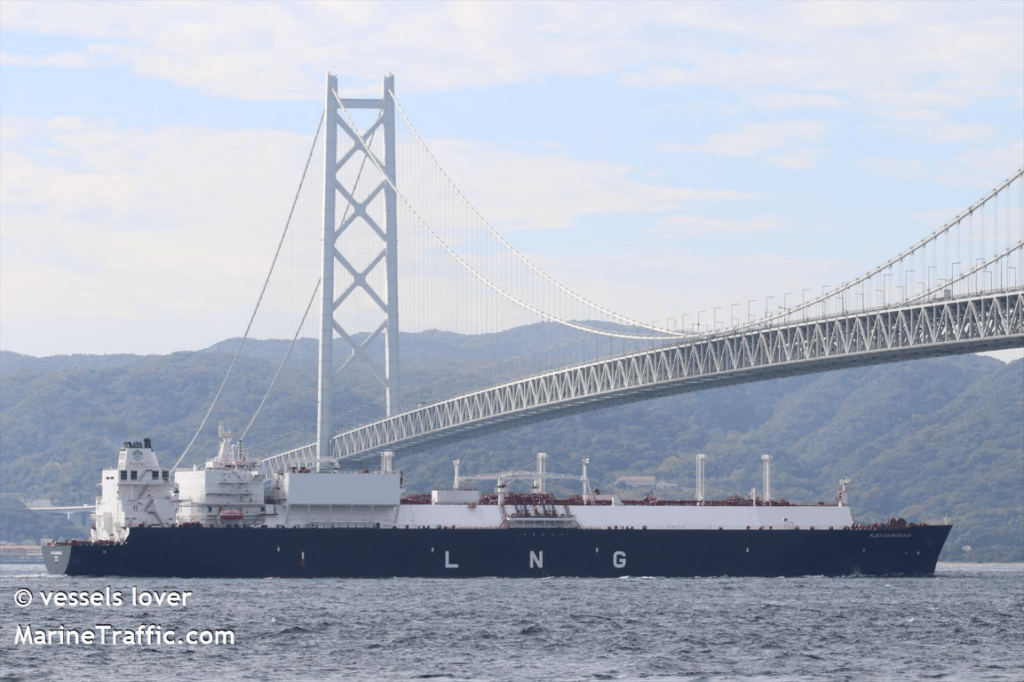 A large liquefied natural gas (LNG) tanker with a capacity of 173,400 cubic meters was launched in July 2019. The tanker is 295 meters long and 46 meters wide, with a gross tonnage of 110,000 tons and a deadweight of 95,618 tons.
The Marshall Islands-flagged vessel is the sixth Flex LNG vessel out of 13 vessels. This ship is equipped with a two-stroke MEGI engine with a partial recovery system and brings the boil-off coefficient to 0.075%.
10. British Partner
LNG tanker British Partner was constructed in 2018 by South Korea's famous shipbuilding corporation, Daewoo Shipbuilding and marine engineering Ltd for BP Shipping. It is the biggest gas carrier the shipping corporation has owned or operated till now. IMO of 9766530, the tanker is presently sailing under the flagship of the United Kingdom.
The tanker is 295 m long and 46 m broad with a maximum draught of 11.4 m, and her total LNG carrying capacity is 17,4000 m3. The carrier can attain a maximum sailing speed of about 16 knots and an average speed of about 15.
Do you know LNG Ships & LPG Ships are different?
Read about Top 10 Biggest LPG Ship Carriers in the World
LNG Global Demand in 2023
The global LNG market was valued at USD 30.34 billion in 2020, and is expected to reach USD 66.13 billion by 2027, at a CAGR of 6.92% during 2022-2027. The outbreak of COVID-19 has disrupted the logistics and supply chain industry, resulting in major losses to the transportation sector, including the shipping industry. For instance, in 2020, LNG storage tanks at Asian regasification terminals (particularly in China and India) reached "tank-top" a number of buyers claimed force majeure, citing that they were physically unable to receive any more LNG, thus negatively impacting the market.
Factors such as increasing demand for gas power generation and rising number of LNG-fueled fleet are expected to drive the global LNG market during the forecast period. However, LNG oversupply and trade tension is expected to hamper the market growth during the forecast period.
The main trade route of the LNG shipping industry is from Arabian Gulf to Asia, Russia to Europe & Russia to Asian countries. In recent times, the US has emerged as a major export center, hence the route from the US to Asia has also become vital.
The global LNG market is expected to be tight over 2022-26 as Europe's quest to reduce its dependency on Russian gas increases demand for LNG. This will curb gas demand growth in China and emerging Asia as the European market outbids these buyers for the limited amount of flexible LNG supply as per latest report by – Bloomberg report on Increasing LNG demand
Read more: