Shipping and World Trade
The international shipping industry is responsible for the carriage of around 90% of world trade. Yes 90% and that's the backbone of World's economy
Shipping is the life blood of the global economy. Without shipping, intercontinental trade, the bulk transport of raw materials, and the import/export of affordable food and manufactured goods would simply not be possible.
Ships are technically sophisticated, high value assets (larger hi-tech vessels can cost over US $200 million to build), and the operation of merchant ships generates an estimated annual income of over half a trillion US Dollars in freight rates.
Safety and Regulation
Shipping is the safest and most environmentally benign form of commercial transport. Perhaps uniquely amongst industries involving physical risk, commitment to safety has long pervaded virtually all deep sea shipping operations. Shipping was amongst the very first industries to adopt widely implemented international safety standards.
The safety of shipping is regulated by various United Nations agencies. The International Maritime Organization (IMO) in particular has developed a comprehensive framework of global maritime safety regulations, which are enforced on a worldwide basis.
Visit Safety 4 Sea for more Safety related Posts Safety4sea.com
To learn more about Shipping Rules & Regulation visit our article on the IMO with access to the IMO website: IMO Rules and Regulations
How do the goods of the world travel from one place to another? Despite technological advancements and the propagation of a globalized economy, a surprising 90% of everything still comes and goes on a ship by sea.
The shipping industry may be one of the oldest in the world, but the global economy would not exist without shipping containers. This underscores the notion that it is still one of the most important industries there is.
10 Shipping Facts that will Amaze you
1. Shipping is Economical & Profitable
The shipping industry is simply massive. Though reporting standards and fluctuating currency values make it impossible to hone in on exact numbers, the International Chamber of Shipping estimates that marine shippers transported over 7.7 billion tons of cargo in 2008, generating roughly $380 billion in freight charges alone.
Liner shipping is the most efficient mode of transportation of goods. In one year, a single large containership could carry over 200,000 container loads of cargo. While individual ships vary in size and carrying capacity, many container ships can transport up to 8,000 containers of finished goods and products on a single voyage.
Interested in Yachts? Read TOP 10 Most Expensive Yachts in the world – 2021
2. Shipping is Affordable
In fact, it's still one of the most affordable ways to transport cargo.
For example, it's cheaper for Scottish cod to be shipped to China (10,000 miles away) and filleted and returned to Scotland than it is to pay Scottish workers to do the same job. In another example, it's cheaper to ship New Zealand tuna in Thailand and ship it back to New Zealand than it is to have the processing completed in New Zealand.
Similarly, on a single voyage, some car carrier ships can handle 7,600 cars. It would require hundreds of freight aircraft, many miles of rail cars, and fleets of trucks to carry the goods that can fit on one large liner ship.
3. Shipping is Environmental & Relatively Cleaner
Shipping is the least environmentally damaging form of commercial transport and, compared with land based industry, is a comparatively minor contributor to marine pollution from human activities.
There has been a substantial reduction in marine pollution over the last 15 years, especially with regard to the amount of oil spilled into the sea, despite a massive increase in world sea borne trade.
4. A Container Ship Travels Long Distances
The average container ship travels the equivalent of 75% of the way to the moon and back in a single year, during its regular travel across the oceans. In its lifetime, a large container ship travels the distance of the moon and back about ten times.
Large Container Ships have a Lot of Power A large container ship engine has roughly 1,000 times more power than the average family car. However, big container ships only travel at 23 knots (or 26.5 miles per hour) at peak, and just 17 knots in heavy weather conditions.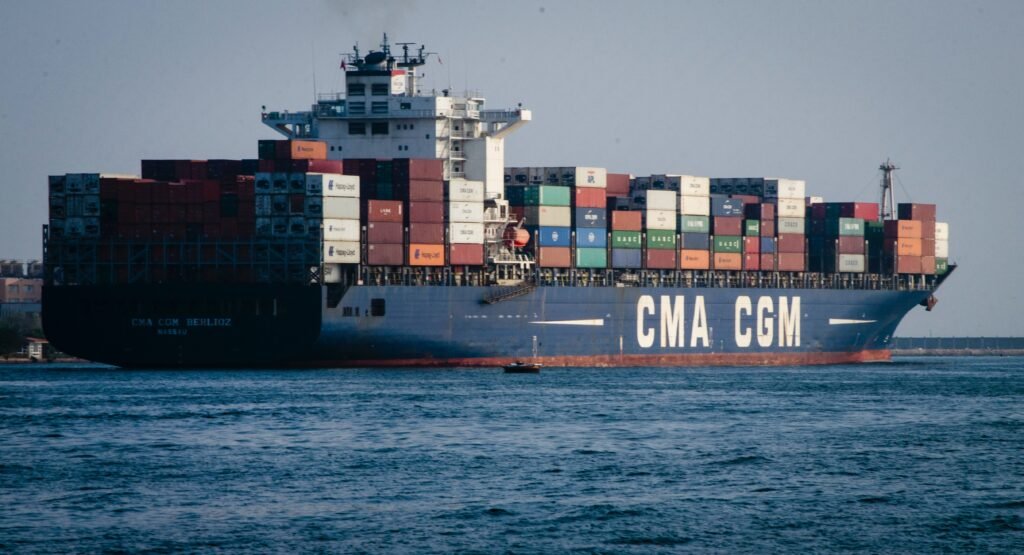 Some Container Shipping fun facts???
Containerships have the capacity to carry several large warehouses worth of goods on a single journey.
A large containership engine weighs up to 2,300 tons has about 1,000 times more power than a family car.
Large containerships can be operated by teams of just thirteen people utilizing sophisticated computer systems.
The ships' computer systems are highly advanced, enabling the precise routing, transport, loading and unloading of thousands of containers for every voyage.
If all the containers from an 11,000 TEU ship were loaded onto a train, it would need to be 44 miles or 77 kilometers long.
In an average year, a large container ship travels three-quarters of the distance to the moon. That means in its lifetime it travels to the moon and back nearly ten times.
A container of refrigerators can be moved from a factory in Malaysia to Los Angeles — a journey of roughly 9,000 miles or 14,484 kilometers — in just 16 days. The cost to transport a bicycle from Thailand to the UK in a container is about US$10. The typical cost for shipping a DVD/CD player from Asia to Europe or the U.S. is roughly US$1.50; a kilogram of coffee just fifteen cents, and a can of beer – a penny.
5. Shipping is Safe and backed by International Organisations like IMO & ILO
Shipping is still the safest form of commercial transport. As a matter of fact, it was one of the first industries to adopt widely implemented international safety standards (in the 19th century). Shipping safety is regulated by the International Maritime Organization (IMO) and the International Labour Organization (ILO).
6. There are Six Types of World Merchant Fleet Ships
Most countries across the world possess and operate merchant ships. At present, the Greek merchant fleet is the largest in the world, and accounts for over 16% of the world's total tonnage.
The six types of merchant fleet ships include:
General cargo ships
Bulk carriers
Fishing vessels
Container ships
Passenger ships
Tankers
7. The 3 Biggest Fleets in the World are Owned by Greece, Japan and Germany
To put this into perspective, Japan has 3,962 ships in their fleet, while Greece has 3,032, and Germany has 2,321. China is in fourth place, and USA in fifth.
The largest shipping company in the world is Denmark's A.P. Moller-Maersk, which reported a 38.9bn$ million revenue in 2019.
Also, Biggest shipping companies: Top ten by TEU capacity
P. Moller–Maersk – 4.1m TEU
Mediterranean Shipping Company – 3.8m TEU
COSCO Shipping Lines – 3.1m TEU
CMA CGM Group – 2.7m TEU
Hapag-Lloyd – 1.7m TEU
Ocean Network Express – 1.5m TEU
Interested in Yachts? Read TOP 10 Most Expensive Yachts in the world – 2021
8. World Fleets Are Manned by Over 1.5 Million Seafarers
Shipping is a International Industry and it's full of people from different race & region. Mostly it's dominated by Filipino 7 Indians.
Seafaring has been the world's first globalized industry. India, being a labour intensive country, has always provided quality seafarers for national and international shipping. India is recognized globally, as a reliable and important source of marine manpower. Indian seafarers, both officers and the rating are much sought after by the Maritime Nation of the World. The last four years (2013 – 2017) saw an unprecedented growth of 42.3% ship board jobs for Indian Seafarers. The seafarers employed on ships world wide increased from 108446 in 2013 to 154349 in 2017. India now provides 9.35% of the global seafarers and rank third in the list of the large seafarers supplying nation to the world maritime industry.
Crews are made up of virtually every nationality. The typical seafarer, however, is a male Filipino or Indian, Chinese or Ukrainian.
9. Male Dominated Industry with much Scope for Women
Male-dominated industry: Only 2% of all seafarers are female and that makes it hard for women to choose shipping as a career. With time this notion is fading and more women are entering in Shipping Industry which is good.
Communication challenges: Around 33% of ship crews in the world have no means of communication while they are on the open sea. Only 10% have any kind of internet access.
A modern, state of the art large container ship can cost you about $80MM but this varies with sizes and the type of ship.
Ships can cost upwards of $300MM or more, plus there are ships that carry pressurized gases, same applies. A super VLCC Crude oil carrier of 300,000 tons or more costs about $420MM. Queen Mary II It cost £460 million ($775 million) to build and has a max speed of over 30 knots.
If you're worried about Expensive shit, please
Shipping and ocean freight is one of the oldest industries in the world. It began thousands of years ago when seafarers traded simple items such as food and jewels. Today, it remains one of the leading forms of transportation, contributing to 90% of the global trade. Shipping is facing many challenges due to Covid-19 outbreak but Time heals everything.
Let's Hope for the best