Your ultimate guide to some of the world's most extravagant yachts and Top 10 Most Expensive Yachts of 2021
The commissioning of luxury yachts has experienced a surge over recent years with the world's wealthiest constantly striving to own the biggest and best. In their battle to do so, what started out as a relatively simple vessel with basic accommodation, has rapidly evolved into unrivalled extravagance redefining the concept of luxury as demonstrated with the world's top 5 most expensive luxury yachts.
A luxury yacht is not just a mode of transportation, but a symbol of wealth and status symbol, that can only be afforded by the wealthy billionaires of the world. The most luxurious yachts worldwide offer extravagant features like movie helipads, theatres, concert halls, multiple swimming pools, saunas and hot tubs. Lets have a look at the top ten of the most expensive yachts in the world.
1. History Supreme – $4.5 billion
Made of solid gold, The History Supreme, is the most expensive yacht in the world and is reportedly owned by Malaysia's richest man, Robert Knok. It took 3 years for the 100 feet long yacht to have been built, using 10,000 kilograms of solid gold and platinum and is designed by the renowned luxury designer from the UK, Stuart Hughes. The gold and platinum adorn the yacht from its base to the dining area, deck, rails, staircase and anchor. The most extravagant aspect of the luxury yacht is its master bedroom that with a wall feature made from meteorite rock and a statue made from genuine Tyrannosaurus Rex bones. The master suite is adorned with a 68 kg 24-carat gold Aquavista Panoramic Wall Aquarium and a liquor bottle featuring a rare 18.5 carat diamond.

Finally, blowing all previous records out of the water is the History Supreme. It was recently delivered to an anonymous Malaysian businessman for a staggering $4.5 billion earning this floating extravagance title of the world's top most expensive luxury yacht. The History Supreme was designed by UK luxury designer Stuart Hughes and took 3 years to complete with the hefty price tag on this luxury liner owing to the 100,000 kg of solid gold and platinum used to adorn it. The base of the superyacht boasts a thin layer of solid gold whilst the entirety of the vessel including the deck, rails, staircases, dining area and even the ship's anchor, all feature these precious metals.
2. ECLIPSE – $1.5 BILLION
The world's second most expensive luxury yacht comprises the Eclipse belonging to Russian billionaire Roman Abramovich. He was rumoured to have paid from $800,000 to $1.5 billion for this luxury liner that also boasts the second largest in the world at 536 feet long. So, to what does the Eclipse owe its huge price tag? Well, its generous size allows for an abundance of on board luxuries including several hot tubs, two swimming pools, 24 guest cabins and a disco hall. Three launch boats, two helicopter pads and a mini-submarine, capable of submerging up to 50 metres underwater, also feature.
Finally, the Eclipse famously boasts intruder detection and missile defence systems for maximum security. The master bedroom and bridge of the Eclipse have been fitted with armour plating and bullet proof windows whilst an anti-paparazzi shield featuring lasers sweeps the surrounding areas. If a lurking photographer is detected, a light is shone directly upon the camera thus making all attempts to take a picture impossible.
3. Streets of Monaco – $1.1 billion
The Streets of Monaco was designed by Yacht Island Design of Derbyshire County in England. Comprising the world's 3rd most expensive luxury yacht, it features a floating replica of the city of Monaco or, to be more precise, a scaled-down version of a section of Monte Carlo. Similarly to the real thing, the Streets of Monaco boasts smaller reproductions of the city's most famous landmarks including Café de Paris, Hotel de Paris, the famous Monte Carlo Casino and racetrack, and La Rascasse, etc. Swimming pools and tennis courts can also be found on board the Streets of Monaco. However, the most outstanding feature of this luxury liner is, without a doubt, the Atrium which houses seven guest suites accommodating up to 16 people. These sumptuous living quarters, modelled on some of the finest hotels in Monaco, each come with their own bathrooms, dressing rooms, balconies and reception rooms. Similarly, a luxury penthouse divided over three floors and extending over 4,800 square feet, has been reserved for the fortunate owner. Finally, BBQ facilities, a café bar, mini waterfall, helicopters and submarines feature on board the Streets of Monaco.
4. Azzam – $600 Million
Owned by a member of the royal family of the UAE for about Price: $600 Million. The UAE is prosperous. The Azzam is yet another luxury yacht owned by a member of the royal family in Dubai. At $600 million, the Azzam is 590 feet long, one of the fastest luxury yachts globally, and adorned in French design and decoration, thanks to Christophe Leonie, who designed the interiors.
Sheikh Khalifa bin Zayed al-Nayan, President of the United Arab Emirates and Emir of Abu Dhabi, is fortunate owner of the Azzam, worth a staggering $650 million. Measuring in at 590 feet long, not only does this luxury liner boast the world's 4th most expensive luxury yacht, but also the world's largest and is expected to reach speeds exceeding 30 knots, or 35mph making it one of the fastest. Finally, little else is known about the Azzam aside from the fact that French interior decorator Christophe Leoni designed the extravagant interior which has been described as ""sophisticated and luxurious in a turn of the century Empire style".
5. Topaz – $530 Million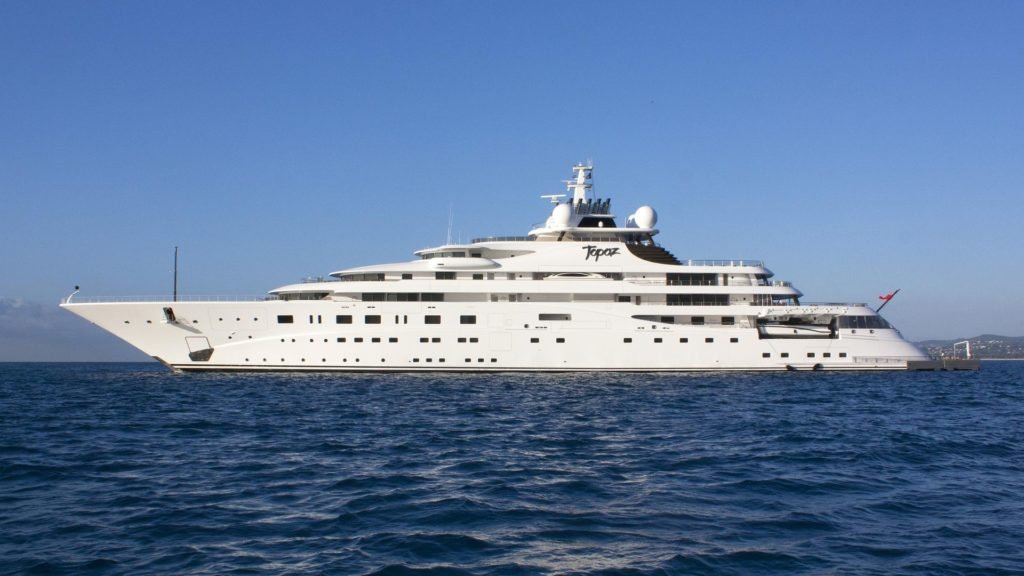 Owned by Shaikh Mansour for about Price: $527 Million.
In total, the Topaz features an astounding eight decks for various exotic viewing experiences. Shaikh Mansour's yacht's interior includes a large jacuzzi, full air conditioning, underwater lighting, two helipads, a modern gymnasium, cinema, and a conference room for business purposes.
6. Motor Yacht A – $440 million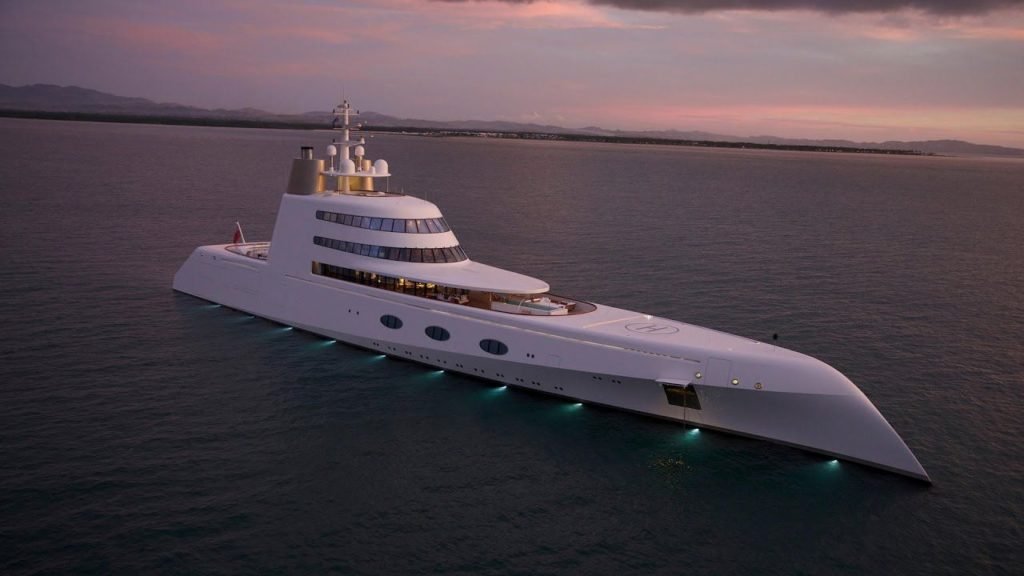 Owner: Andrey Melnichenko for the Price: $440 Million
Reports claim Russian tycoon Andrey Melnichenko owns the Motor Yacht A, with its unique design. If you lay eyes upon the Motor Yacht A, your first thought is of a stealth warship or military submarine, not a luxury yacht. Architect Martin Francis and designer Philippe Stark, alongside Blohm and Voss in Kiel, constructed a boat that you cannot judge from the exterior alone. Inside, the 400-foot yacht features a master bedroom, disco floor, six guest suites, and moving walls to transform the guest suites into staterooms quickly.
7. Dubai – $400 Million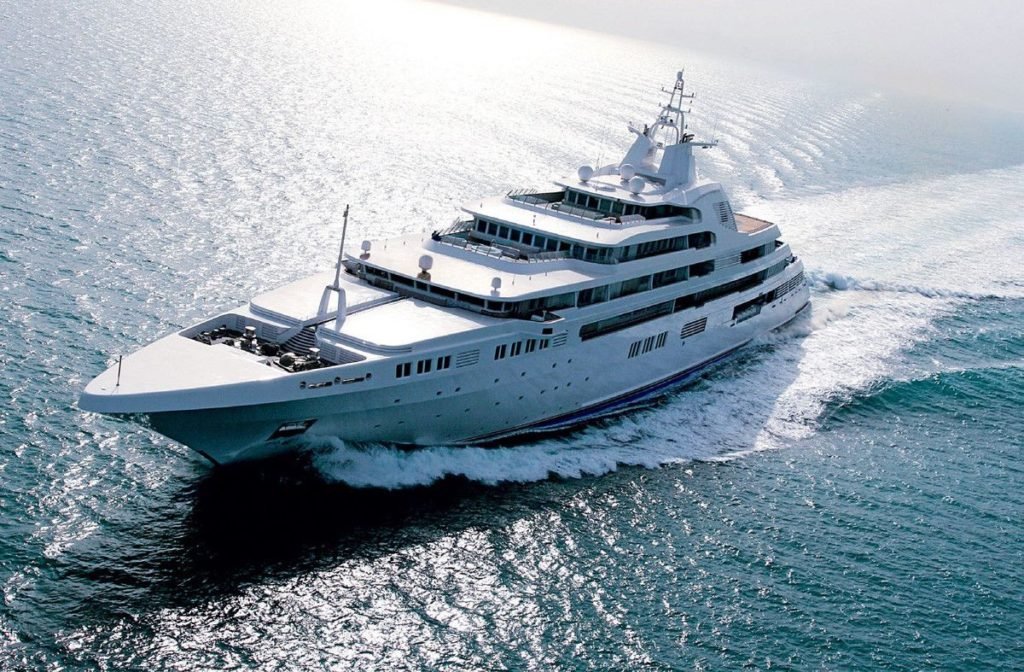 Owner: Owned by a member of the royal family of the UAE
Price: $400 Million
Named after its home country, the Dubai luxury yacht is rumored to be owned by a member of the royal family of the UAE, Dubai. Built by Blohm and Voss, with exteriors designed by Andrew Winch, and interiors by Platinum Yachts, the Dubai features a mosaic swimming pool, helipad, sunbathing platforms, Jacuzzis, and space for 155 guests. Below deck, guests will note the exquisite split-level, large social area, and VIP lounge.
8. Serene – $330 Million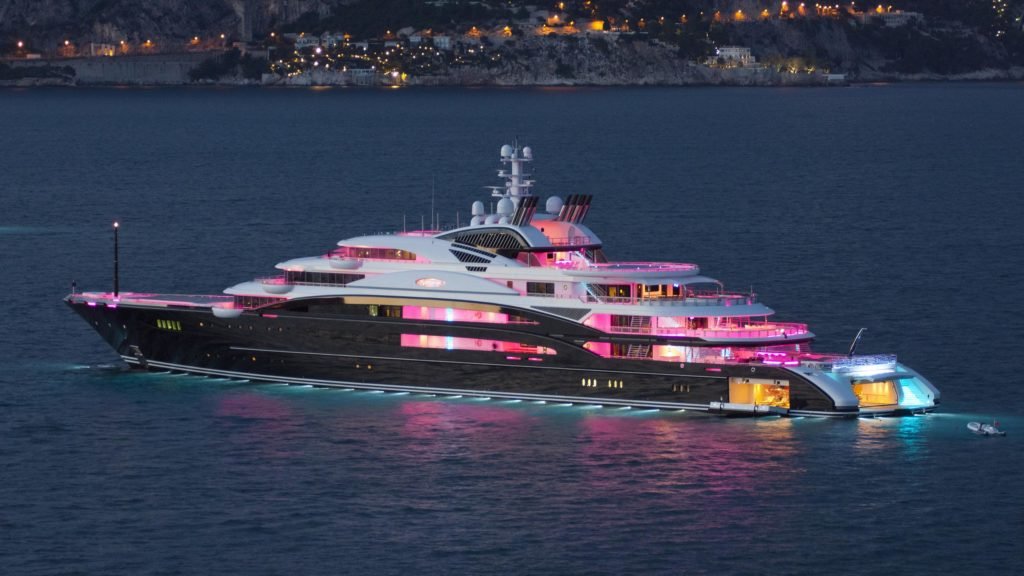 Owner: Mohammed bin Salman
Price: $330 Million
Serene is equipped with multiple swimming pools, a seawater pool, two helipads, a dance floor, a submarine, a spa pool, a snow room, a steam room, and play areas for wealthy guests to enjoy. With multiple decks, guests will find an unwater viewing room to watch passing marine life in total comfort and security.
9. Radiant – $320 Million
Owner: Abdulla Al Futtaim
Price: $320 Million
At $320 million, Radiant is a home-away-from-home luxury yacht with all of the amenities one would expect of a penthouse. It features swimming pools, a beach club, helicopter landing pads, a massage room, movie theater, air conditioning, a full gym set, and a jacuzzi on the deck. Should pirates rear their ugly mugs, Radiant features a powerful water cannon for protection.
10. Al Said – $300 Million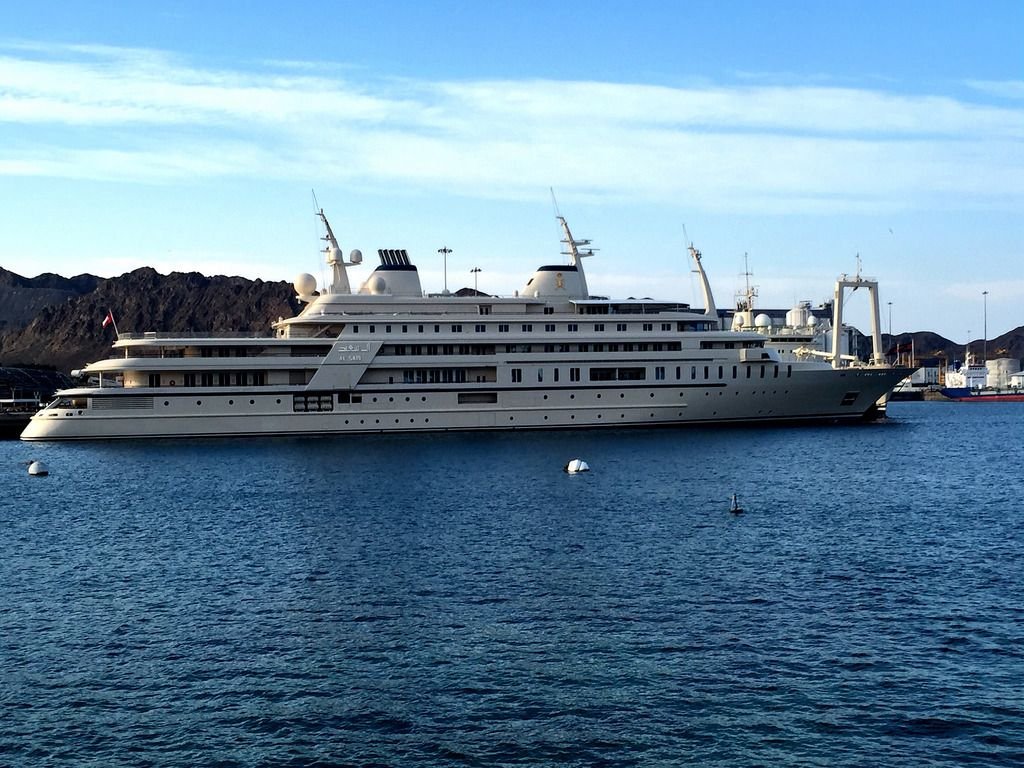 Owner: Rumored to be owned by a member of the royal family of Oman
Price: $300 Million
According to rumors spread within well-to-do circles, a member of the royal family of Oman sits at the Al Said luxury yacht's helm. Al Said is reportedly the world's highest displacement superyacht, featuring a displacement of 15,850 tons and an impressive length of 508.53 feet. Al Said may host up to 70 guests, a 50-piece orchestra, and 154 crew members at any given time.
Some Bonus Expensive Yachts if you're a Yacht Lover….
Rising Sun: At a whopping price of US$ 200 million, fourth in the world's 10 most pricey private yachts is the Rising Sun, jointly owned by the creator of the Oracle software – Larry Ellison – and David Geffen.
Octopus: Featuring fifth here, the Octopus is a yacht owned by the joint-founder of Microsoft, Paul Allen and built by the German shipbuilding conglomerate Lurssen and designed by the world famous architect Jonathan Quinn Barnett.
The Ecstasea's cost of US$ 129 million and its distinctive style of construction, pave the way for its entry in this compilation. The Ecstasea was formerly owned by Russian honcho Roman Abramovich, though the actual details of its present American owner are unavailable. The yacht was designed by Terence Disdale and the architectural firm of De Voogt.