Knock Nevis – Seawise Giant, which was known as the most massive ship ever built, had an extremely dramatic life. From its maker's shipyard in Japan to its death knell in Alang, India – the ship had been through a series of interesting incidents right from the start. In this article we trace the very interesting life of Knock Nevis – the greatest ship every built by mankind.
Knock Nevis, also known as the Seawise Giant, was a supertanker that was once the largest ship ever built. It was constructed in 1979 by Sumitomo Heavy Industries in Japan for the company Oppama Shipyard Ltd. The ship had a length of 458.45 meters (1,503.0 feet) and a fully loaded displacement of 657,019 tonnes.
During its operational lifetime, Knock Nevis was used primarily as a crude oil carrier, transporting oil from the Middle East to various locations around the world. In 2009, after nearly 30 years of service, the ship was finally retired and scrapped in Alang, India.
About Knock Nevis
The TT Seawise Giant earlier Oppama; later Happy Giant, Jahre Viking, Knock Nevis, and Mont was a ULCC supertanker that was the longest self-propelled ship in history, built in 1974–1979 by Sumitomo Heavy Industries in Yokosuka, Kanagawa, Japan. It possessed the greatest deadweight tonnage ever recorded. Fully laden, its displacement was 657,019 tonnes.
Ship Particulars of Knock Nevis
Name
Knock Nevis
IMO
7381154
GT
260,941
NT
214,793
Laden Displacement
646,642 long tons
Light Displacement
81,879 long tons
Length (LOA)
458.45 m (1,504.10 ft)
Beam
68.8 m (225.72 ft)
Draught
24.611 metres (80.74 ft)
Depth
29.8 m (97.77 ft)
Propulsion
2 Mitsubishi V2M8 boilers (Designed by Combustion Engineering)
Sumitomo Stal-Laval AP steam turbine, 50,000 hp
Speed
16 knots
Capacity
4,240,865 barrels (of crude oil) – 4.1 million barrels
Tonnage
564,763 DWT
Type
ULCC (Ultra Large Crude Carrier)
Ex. Names
Knock nevis, Seawise Giant; Happy Giant; Jahre Viking
Post Name
Mont
Size comparison of Knock Nevis – the Biggest supertanker ship
A comparison diagram of the Knock Nevis with several large buildings. From left to right: Eiffel Tower, Empire State Building, Petronas Towers, Knock Nevis, Willis Tower, Taipei 101 and Burj Khalifa.
A Size comparison of Knock Nevis with some of the longest ships of that time. From top to bottom: Knock Nevis (ex-Seawise Giant), Maersk Mc-Kinney Møller, Vale Brasil – a very large Ore carrier, Allure of the Seas – a cruise ship, and USS Enterprise (CVN-65)
Knock Nevis, ex-Seawise Giant (in red) compared to large ships and buildings: The pentagon. Hinderburg, Yamato, Empire State building and with some of the famous & Big ships of all time.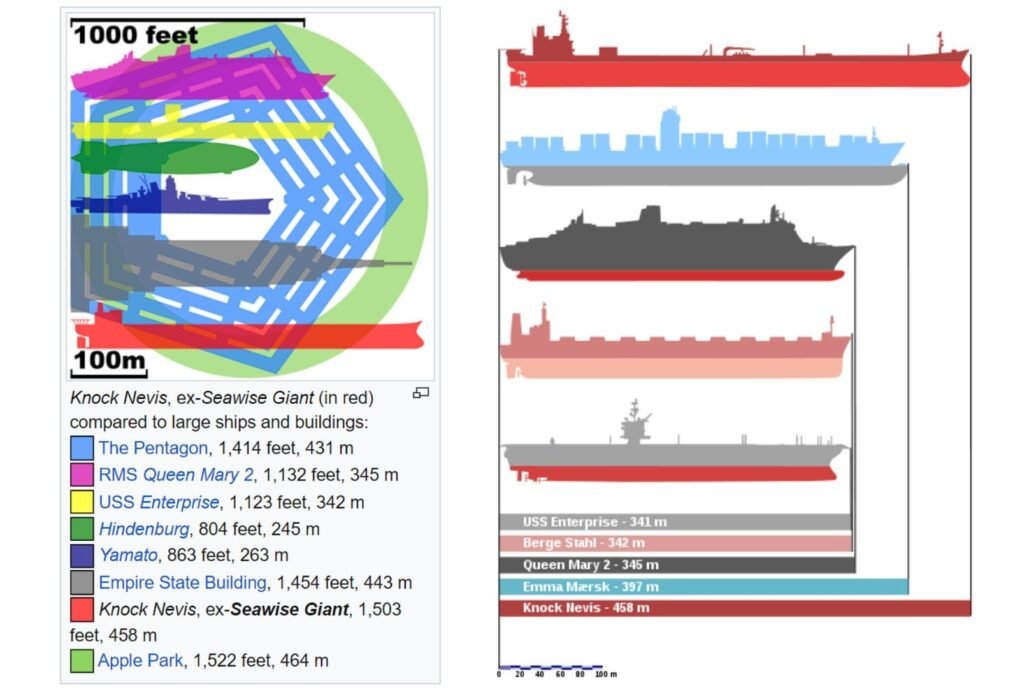 History timeline of Knock Nevis – Seawise Giant
In 1974, a Greek Owner placed an order to Sumitomo Heavy Industries for building a tanker ship, and shipyard delivered it in 1979. However, the owner failed to take delivery of the vessel.
The vessel remained unnamed for a long time, and was identified by her hull number, 1016. During sea trials, 1016 exhibited severe vibration problems while going astern. The Greek owner refused to take delivery and the vessel was subject to a lengthy arbitration proceeding. Following settlement, the vessel was sold and named Oppama by Sumitomo Heavy Industries
The ship was then sold to the Orient Overseas Container Line (OOCL), which asked the makers to increase the length and cargo capacity of the vessel. It took 2 years for the refit and at the end of which, the ship was re-launched as Seawise Giant.
Do you know? or can you Imagine:

Seawise Giant had a capacity of 564,763 metric tonnes deadweight, overall length of 458.45 meters, a beam of 69 meters and a draft of 24.611 meters. She had a total of 46 tanks and 31,451 square meters of deck space.
When Seawise Giant was fully loaded its 25 meter/81 foot draft was too deep for the ship to safely navigate the relatively shallow waters of the English Channel. The rudder weighed 230 tons, and the propeller weighed 50 tons.
In 1988, the Seawise Giant was damaged and sunk during the Second World War (Iraq-Iran war) by an Iraqi Air Force attack while anchored off Larak Island, Iran on 14 May 1988 and carrying Iranian crude oil. The ship was struck by parachute bombs. Fires ignited aboard the ship and blazed out of control and it sank in the shallow waters off the coast. The ship was declared a total loss and was written off
After the war, Norman International bought the wreckage, got it repaired in Singapore, and launched it again as Happy Giant. These repairs were done at the Keppel Corporation shipyard in Singapore after towing the vessel from the Persian Gulf. It entered service in October 1991 as Happy Giant
In 1991, Jorgen Jahre, a Norwegian shipowner bought the supertanker in 1991 for US$39 million and renamed her Jahre Viking. From 1991 to 2004, it was owned by Loki Stream and flew the flag of Norway.
In 2004, Jahre Viking was bought by the First Olsen Tankers and was renamed as Knock Nevis. Since then, it had been used as immobile offshore platform or FSO – a floating storage and offloading unit.
It was then bought by Amber Development Corporation and renamed as M/V Mont, for a single and last voyage to Alang, India in January 2010, where she was scrapped.
Knock Nevis was renamed Mont, and reflagged to Sierra Leone by new owners Amber Development for a one last final voyage to Alang, India where it was scrapped at by Priyablue Industries.
The vessel was beached on 22 December 2009. Due to the length and the size of the vessel, scrapping only finished at the end of 2010
Do you know
Seawise Giant was featured on the BBC series Jeremy Clarkson's Extreme Machines while sailing as Jahre Viking.
According to its captain, S. K. Mohan, the ship could reach up to 16.5 knots (30.6 km/h) in good weather. It took 9 km (5+1⁄2 mi) for the ship to stop from that speed, and the turning circle in clear weather was about 3 km (2 mi)
The ship's 36 tonne anchor was saved and donated to the Hong Kong Maritime Museum in 2010. It was later moved to a Hong Kong Government Dockyard building on Stonecutters Island
The Mighty Knock Nevis, call it Jahre Viking once in the high seas,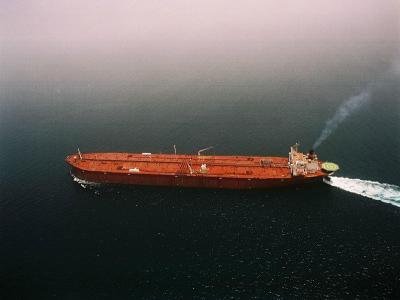 being through rough sea, test of nature and Mankind's war disasters
still came out fearless to hit the High seas again,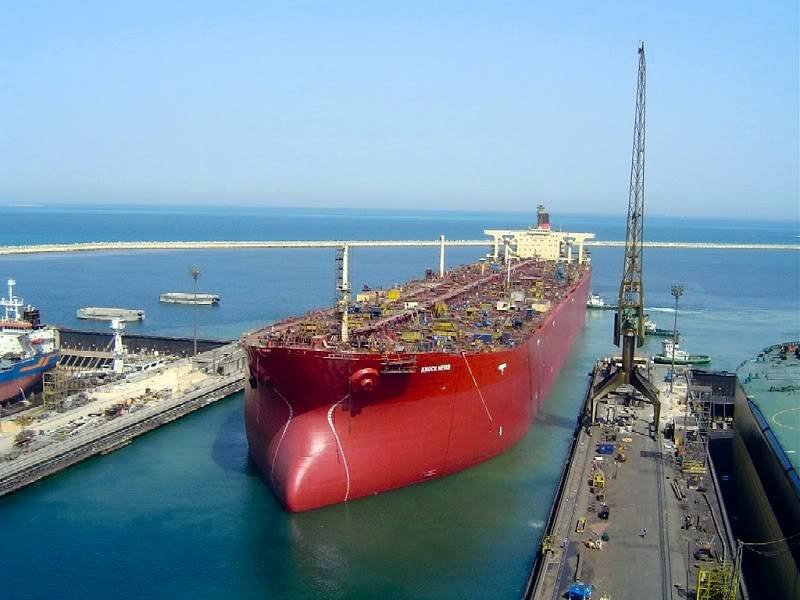 only for one last final voyage to Alang, India where it was scrapped in 2010.
The beaching of it must have been a sight to behold, and the job site would be gobsmacking. A crazy end to a crazy life for that ship.
Only its 36-tonne anchor was saved, where it now resides at the Hong Kong Maritime Museum – the last remaining relic of a truly legendary ocean beast. 
But do you know?
Why Knock Nevis was Scrapped – The death of Seawise Giant
However, by the time, when the ship was over 25 years old and was facing increasing maintenance and operational costs. The global economic downturn in the late 2000s, which led to a drop in demand for oil transportation and a decrease in steel prices, made it financially attractive for the ship to be scrapped for its steel value.
The decision to scrap the Knock Nevis was primarily driven by economic and practical considerations, rather than any specific incident or accident. While the ship had a long and eventful history, it had become too expensive and difficult to maintain and operate, and its useful life had come to an end.
You may also Read,
10 Quick Facts about Knock Nevis
Here're quick facts about the Largest supertanker ever existed made by the mankind and for your easy reference,
Knock Nevis was built in 1979 by Sumitomo Heavy Industries, Ltd. in Japan.
The ship was originally named Seawise Giant and was commissioned by a Greek shipping magnate.
Knock Nevis was 458.45 meters (1,503.0 feet) long, 68.86 meters (226.2 feet) wide, and had a draft of 24.6 meters (80.7 feet).
The ship's deadweight tonnage was 564,763 metric tons, making it the largest ship ever built in terms of deadweight tonnage.
Knock Nevis was too large to enter most ports and could only be loaded and unloaded in a limited number of deep-water terminals.
The ship was used primarily to transport crude oil from the Middle East to Asia and North America.
In 1988, during the Iran-Iraq War, the ship was hit by an Iraqi missile while anchored in the Persian Gulf. It was badly damaged and had to be towed to Dubai for repairs.
The ship changed hands several times over the course of its life and was renamed Happy Giant in 2000 and Jahre Viking in 2004.
In 2009, the ship was sold for scrap and was towed to a shipbreaking yard in India, where it was dismantled over the course of several months.
Knock Nevis was a marvel of engineering and remains one of the largest objects ever built by humans.
You may also read more, 10 Facts about Knock Nevis – Seawise Giant, the Biggest Supertanker ever made
Thanks, TheSeaholics
Do you have any stories of her or cool facts you could share with us? Tell us here