In today's world of maritime transportation, efficient management and control of vessel traffic have become paramount. Vessel Traffic Management System (VTMS) plays a vital role in ensuring the safety and smooth operation of maritime activities. This article explores the concept of VTMS, its significance, working principles, benefits, challenges, implementation, successful examples, and future trends.
What is a Vessel Traffic Management System (VTMS)?
A Vessel Traffic Management System, commonly known as VTMS, is a comprehensive solution that aims to enhance maritime safety and optimize vessel traffic flow within a designated area, such as a port, harbor, or waterway. It utilizes a combination of advanced technologies, including radar, Automatic Identification System (AIS), closed-circuit television (CCTV), and communication systems, to monitor, manage, and track vessel movements in real-time.
History of VTMS
In 1946 a demonstration was done in order to identify the helpfulness of coast based radar system in Liverpool. The initial effort in developing harbour controlled radar was done by establishing a system at the end of Victoria Pier, Douglas, Isle of Man in 1948. (Hughes, 2009)
With the rapid growth of marine industry marine safety and efficient navigation has been addressed as one of the issues that have major consideration. Different methods for improving the marine safety have been developed the past few decades. Some of them can be stated as radio-communications, navigation rules, electronic chart systems and identification systems. (Goralski, Ray, & Gold, 2011).
Goralski et al. (2011) further describes that most recent technological developments in improving vessel traffic management includes radar, electronic charting like Electronic Chart Display Information Systems, (ECDIS), vessel traffic control and management (VTMS) and automatic identification system (AIS) and communication. Several sources of data are combined from sensors such as GPS, radar and AIS in order to improve the vessel traffic monitoring. The final objective of this is offer more precise understanding of the navigational situations.
Many developed countries utilize the services of highly sophisticated VTMS. The Port of London is one of the UK's busiest ports utilize an exceptionally advanced VTMS. In this VTMS the data from radars are associated with a mass of other data inside a very advanced computer system. This gives an ongoing picture and a thorough record of all developments at Port of London. (Goldman, 2011)
Importance of VTMS
VTMS plays a crucial role in ensuring the safety and efficiency of maritime operations. By providing accurate information about vessel positions, speed, and navigational patterns, it helps prevent collisions, groundings, and other accidents. Moreover, VTMS facilitates the coordination of vessel movements, improves situational awareness for both maritime authorities and vessel operators, and enables effective response to emergencies or security threats.
Components of a VTMS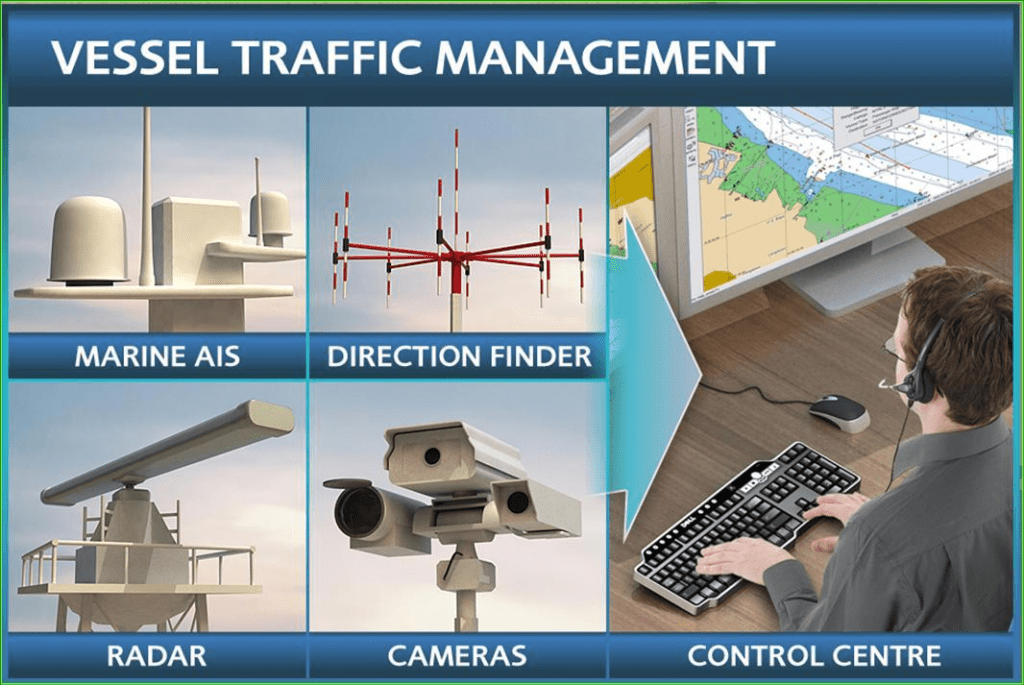 A VTMS typically consists of several interconnected components, each serving a specific purpose in managing vessel traffic. These components include:
1. Radar Systems
Radar systems form the backbone of a VTMS, providing continuous surveillance of vessel positions and movements. They use radio waves to detect and track vessels, even in adverse weather conditions or during nighttime.
2. Automatic Identification System (AIS)
AIS is a transponder-based system that enables vessels to exchange real-time information, including their identity, position, course, speed, and other relevant data. VTMS integrates AIS to enhance vessel tracking and improve situational awareness.
3. Closed-Circuit Television (CCTV)
CCTV cameras are strategically placed within the VTMS coverage area to provide visual monitoring of vessel activities. They enable operators to visually verify vessel identities, detect potential threats, and enhance security measures.
4. Communication Systems
Effective communication is essential in coordinating vessel movements. VTMS incorporates reliable communication systems, such as VHF radios and other voice/data networks, to facilitate seamless communication between maritime authorities, vessel operators, and other stakeholders.
5. Information Management System
An information management system serves as the central hub of a VTMS, integrating data from various sources and providing a unified view of vessel traffic. It enables operators to analyze data, generate reports, and make informed decisions in real-time.
How Does a VTMS Work?
A VTMS operates on the principles of data collection, analysis, and dissemination. The system continuously gathers vessel-related information from radar, AIS, CCTV, and communication systems. This data is then processed, analyzed, and presented to the operators in a comprehensive and user-friendly format. Operators can monitor vessel movements
, identify potential risks or anomalies, and take necessary actions to ensure safe and efficient traffic flow. The VTMS provides real-time updates on vessel positions, course alterations, speed variations, and other relevant information. By integrating data from various sources, it creates a comprehensive situational picture, allowing operators to make informed decisions and respond promptly to changing circumstances.
VTMS also facilitates effective communication between maritime authorities, vessel operators, pilots, and other stakeholders. Operators can relay important information, such as navigational warnings, weather updates, or traffic advisories, to vessels in the area. Similarly, vessel operators can communicate their intentions, request assistance, or report any emergencies to the VTMS operators.
Overall, a VTMS acts as a centralized control and monitoring system, enabling efficient traffic management, enhanced safety, and improved situational awareness within the designated maritime area.
Benefits of VTMS
The implementation of VTMS brings numerous benefits to the maritime industry. Some of the key advantages include:
Enhanced Safety: VTMS significantly reduces the risk of collisions, groundings, and other accidents by providing real-time vessel tracking, early warning systems, and improved situational awareness.
Optimized Traffic Flow: By coordinating vessel movements and minimizing congestion, VTMS improves the efficiency of maritime operations, leading to reduced waiting times, faster turnaround, and increased productivity.
Effective Emergency Response: In case of emergencies, such as search and rescue operations or oil spill incidents, VTMS enables quick and coordinated response by providing real-time information and facilitating communication between relevant parties.
Improved Security: With its CCTV integration and advanced monitoring capabilities, VTMS enhances security measures by detecting suspicious activities, unauthorized entries, or potential threats.
Environmental Protection: By optimizing vessel routes and minimizing fuel consumption, VTMS helps reduce greenhouse gas emissions, thus contributing to environmental sustainability.
Challenges and Limitations of VTMS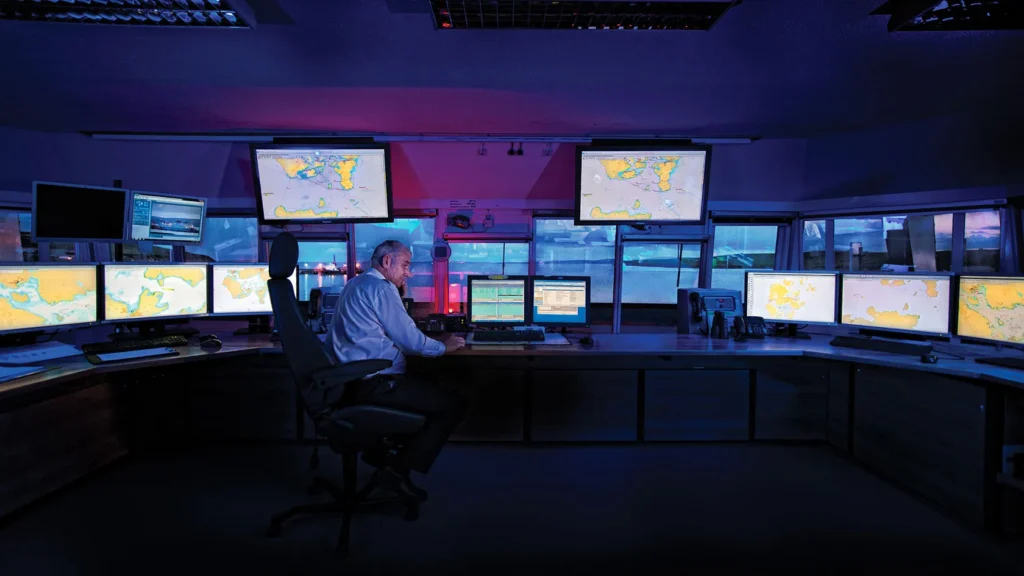 While VTMS offers significant advantages, it also faces certain challenges and limitations. These include:
Technological Dependence: VTMS heavily relies on advanced technologies such as radar, AIS, and communication systems. Any failure or malfunction in these systems can impact the effectiveness of the VTMS.
Cost Implications: Implementing and maintaining a VTMS can involve substantial costs, including infrastructure development, technology acquisition, and personnel training.
Integration Complexity: Integrating multiple data sources and ensuring seamless interoperability between different components of the VTMS can be a complex task, requiring careful planning and coordination.
Privacy Concerns: The collection and sharing of vessel-related data raise privacy concerns, as sensitive information about vessels and their activities is captured and monitored.
Adoption and Compliance: Widespread adoption of VTMS requires regulatory support, industry collaboration, and compliance with international standards. Overcoming these challenges is crucial to maximize the benefits of VTMS implementation.
VTMS Implementation and Regulations
The implementation of VTMS varies from region to region, and it is often guided by international maritime organizations and national regulatory bodies. These organizations provide guidelines and standards for the design, operation, and maintenance of VTMS. Additionally, local authorities collaborate with port operators, vessel owners, and other stakeholders to establish VTMS frameworks tailored to specific areas.
Regulations governing VTMS may include requirements for vessel reporting, mandatory AIS usage, communication protocols, and adherence to international conventions on maritime safety and security. Compliance with these regulations ensures consistent and effective implementation of VTMS practices.
How Vessel Traffic Management Systems Help Reduce Maritime Accidents
Vessel Traffic Management Systems (VTMS) play a crucial role in reducing maritime accidents by providing enhanced situational awareness and effective communication between vessels and shore authorities. Here are several ways in which VTMS helps improve maritime safety:
1. VTMS helps in Collision avoidance:
VTMS uses radar, Automatic Identification System (AIS), and other sensors to monitor vessel movements in real-time. By tracking vessel positions, speeds, and courses, VTMS can identify potential collision risks and provide early warnings to vessels and shore authorities. This allows for timely intervention and corrective actions to avoid accidents.
2. VTMS helps in Traffic monitoring and regulation
VTMS monitors and manages vessel traffic in busy waterways and ports. It helps enforce traffic regulations, such as speed limits and traffic separation schemes, to prevent congestion and maintain orderly flow. By reducing vessel density and ensuring safe distances between ships, the risk of collisions is minimized.
3. Hazard identification and response:
VTMS can detect and track navigational hazards, such as floating debris, icebergs, or sudden changes in water depth. When hazards are identified, VTMS alerts vessels in the vicinity, allowing them to adjust their routes and take necessary precautions. Additionally, VTMS enables swift communication between vessels and rescue coordination centers, facilitating faster response in case of emergencies or accidents.
4. Weather monitoring and routing:
VTMS incorporates weather data, including forecasts and real-time observations, to assess the impact of weather conditions on vessel operations. By providing up-to-date information on storms, strong currents, or other adverse weather phenomena, VTMS enables vessels to make informed decisions regarding route planning and potentially hazardous areas. This helps minimize the risk of accidents caused by severe weather conditions.
5. Communication and coordination:
VTMS serves as a central communication hub, facilitating effective information exchange between vessels, pilots, harbor authorities, and other relevant stakeholders. This ensures that all parties have access to the same situational data, including vessel positions, intentions, and traffic conditions. Improved communication enhances coordination and allows for proactive measures to be taken to prevent accidents.
6. Incident investigation and analysis:
In the unfortunate event of a maritime accident, VTMS data can be invaluable for post-incident analysis and investigation. The system records vessel movements, communications, and other relevant data, which can be analyzed to reconstruct the sequence of events leading to the accident. This information aids in determining the causes and identifying areas for improvement to prevent similar incidents in the future.
Examples of Successful VTMS
Several regions around the world have successfully implemented VTMS to enhance maritime safety and traffic management. Here are a few notable examples:
Port of Singapore: The Port of Singapore, one of the busiest ports globally, has a highly advanced VTMS in place. It incorporates state-of-the-art technologies, including radar, AIS, and a comprehensive information management system. The VTMS in Singapore enables efficient traffic flow, enhances safety, and ensures seamless coordination between vessels and port authorities.
Suez Canal VTMS: The Suez Canal, a vital waterway connecting the Mediterranean Sea to the Red Sea, relies on a robust VTMS for managing the heavy traffic transiting through the canal. The system monitors vessel movements, facilitates safe passage, and helps prevent congestion in this critical international shipping route.
VTS Dover, UK: The Vessel Traffic Service (VTS) in Dover, UK, is an exemplary VTMS that effectively manages vessel traffic in the English Channel. It employs advanced radar systems, AIS integration, and real-time communication to ensure safe navigation, particularly in challenging conditions such as adverse weather or high traffic density.
These successful examples highlight the importance of implementing a well-designed and technologically advanced VTMS to improve maritime operations, safety, and efficiency.
Future Trends in VTMS
As technology continues to advance, VTMS is poised to undergo further developments and innovations. Here are some future trends to watch out for:
Artificial Intelligence (AI) Integration: AI-powered algorithms can enhance VTMS capabilities by analyzing vast amounts of data, detecting patterns, and predicting potential risks or traffic congestion. AI integration can optimize vessel routing, improve decision-making processes, and provide valuable insights for efficient traffic management.
Automation and Autonomous Vessels: With the rise of autonomous vessels, VTMS will need to adapt to accommodate their integration into existing traffic flows. VTMS systems may incorporate features such as remote monitoring, communication with autonomous vessels, and collision avoidance mechanisms to ensure their safe navigation alongside conventional vessels.
Enhanced Cybersecurity: As VTMS relies heavily on interconnected systems and data sharing, robust cybersecurity measures will become increasingly important. Future VTMS implementations will focus on safeguarding sensitive information, preventing unauthorized access, and addressing potential cyber threats.
Integration with Smart Port Infrastructure: VTMS will likely integrate with other smart port infrastructure components, such as automated cranes, intelligent berths, and logistics management systems. This integration will enable seamless coordination and optimization of vessel traffic within the broader context of smart port operations.
Conclusion
In conclusion, a Vessel Traffic Management System (VTMS) is a critical tool for ensuring safe and efficient maritime operations. By utilizing advanced technologies, VTMS enables real-time monitoring, coordination, and management of vessel traffic. It enhances safety, optimizes traffic flow, facilitates effective communication, and contributes to environmental sustainability. Although VTMS implementation comes with challenges and cost implications, the benefits it brings to the maritime industry are significant.
As technology advances, VTMS will continue to evolve, incorporating AI, automation, and cybersecurity measures. The future of VTMS holds exciting possibilities for further improving safety, efficiency, and integration with smart port infrastructure. By embracing these advancements and collaborating on international regulations, the maritime industry can ensure the continued success and effectiveness of VTMS in managing vessel traffic.
FAQs (Frequently Asked Questions)
What is the primary purpose of a Vessel Traffic Management System (VTMS)? A VTMS aims to enhance maritime safety, optimize traffic flow, and provide real-time monitoring and coordination of vessel movements within a designated area.
What technologies are used in a VTMS? VTMS integrates technologies such as radar, Automatic Identification System (AIS), closed-circuit television (CCTV), and communication
Who benefits from the implementation of VTMS? VTMS benefits various stakeholders, including maritime authorities, port operators, vessel operators, pilots, and other users of the waterways. It enhances safety, improves traffic management, and facilitates effective communication among these stakeholders.
Is VTMS mandatory in all ports and waterways? The implementation of VTMS varies from port to port and depends on the local regulations and requirements. While some ports have made VTMS mandatory, others may have voluntary adoption or specific requirements based on the level of traffic and safety considerations.
Can VTMS help prevent accidents and collisions? Yes, VTMS plays a crucial role in preventing accidents and collisions by providing real-time vessel tracking, early warning systems, and improved situational awareness to operators. It helps detect potential risks, facilitates prompt response, and ensures safer navigation.
What are the privacy concerns associated with VTMS? VTMS involves the collection and monitoring of vessel-related data, raising concerns about privacy. It is important to ensure that the data collected is used only for the intended purposes, and privacy regulations are followed to protect sensitive information about vessels and their activities.
Can VTMS help in emergency situations? Yes, VTMS is designed to facilitate effective emergency response in situations such as search and rescue operations, oil spill incidents, or security threats. It provides real-time information, enables communication between relevant parties, and aids in coordinating emergency actions.
Is VTMS applicable only in ports or can it be used in open waters? While VTMS is commonly implemented in ports, harbors, and busy waterways, it can also be used in open waters depending on the specific needs and requirements of the maritime area. VTMS can provide valuable assistance in monitoring vessel traffic and ensuring safety even in open water environments.
What are the future prospects for VTMS? The future of VTMS looks promising, with advancements in technologies such as artificial intelligence (AI), automation, and integration with smart port infrastructure. These developments will further enhance the capabilities of VTMS, improving safety, efficiency, and environmental sustainability in maritime operations.
How can vessel operators benefit from VTMS? Vessel operators can benefit from VTMS by receiving real-time information about navigational hazards, weather updates, and traffic advisories. It helps them make informed decisions, adjust their routes, and ensure compliance with regulations, leading to safer and more efficient voyages.
Remember, for more detailed information and specific guidelines, it is recommended to consult local maritime authorities and relevant industry standards when implementing VTMS in a particular region or port.