People ask me What causes Megalohydrothalassophobia, and let's Talk about the Fears, causes and ways to overcome the Fear of Megalohydrothalassophobia.
In the vast spectrum of human emotions, fear is a potent and intricate phenomenon that has captured the attention of psychologists, researchers, and philosophers alike.
Among the countless fears that plague humanity, megalohydrothalassophobia stands as a unique and intriguing concept. In this article, we delve into the depths of megalohydrothalassophobia, uncovering its origin, impact, and potential ways to overcome it.
Megalohydrothalassophobia is a term that might sound daunting at first, but it simply refers to the fear of large bodies of water. The roots of this fear are often traced back to a combination of evolutionary history and personal experiences.
As humans, our ancestors' survival greatly depended on their proximity to water sources, making the fear of deep water bodies somewhat paradoxical. Nevertheless, modern life has brought forth new perspectives and triggers for this fear, and it's crucial to explore these aspects in depth.
Also Read,
Megalohydrothalassophobia
Megalohydrothalassophobia is a term that combines several Greek roots to describe a specific phobia. Let's break down the word:
Megalo: This prefix is derived from the Greek word "megas," which means "great" or "large."
Hydro: This prefix is derived from the Greek word "hydor," which means "water."
Thalasso: This prefix is derived from the Greek word "thalassa," which means "sea" or "ocean."
Phobia: This suffix is derived from the Greek word "phobos," which means "fear" or "phobia."
Combining these roots, Megalohydrothalassophobia can be understood as the fear or phobia of large bodies of water, such as oceans, seas, or deep bodies of water.
What Causes Megalohydrothalassophobia?
The Subconscious Impact
One cannot undermine the power of the human subconscious mind when it comes to fears and phobias. Megalohydrothalassophobia is no exception. This fear can be deeply ingrained due to a variety of factors such as childhood experiences, exposure to frightening media portrayals of water bodies, or even witnessing accidents involving large water masses. These instances can lead to an irrational and overpowering fear that affects an individual's daily life and choices.
The Ripple Effect on Well-being
Megalohydrothalassophobia's effects often extend far beyond the immediate feeling of fear. Those grappling with this fear might experience heightened levels of anxiety, increased heart rate, and even panic attacks when confronted with large water bodies. This can result in avoiding activities involving water or limiting travel options to locations far from oceans, lakes, or rivers. Such avoidance behaviors can hinder personal growth and restrict opportunities for exploration and adventure.
Waves to Overcome fear of Megalohydrothalassophobia
Conquering megalohydrothalassophobia is not an insurmountable task. While the journey might be challenging, it's essential to recognize that progress is possible. Here are a few strategies that can help individuals gradually overcome their fear:
1. Education and Understanding
Knowledge is a powerful tool in dismantling irrational fears. Educating oneself about water bodies, their ecosystems, and the safety measures associated with them can help demystify the unknown. This understanding can replace irrational fears with logical thinking and a sense of control.
2. Gradual Exposure Therapy
Exposure therapy is a well-known technique for treating various phobias, including megalohydrothalassophobia. By gradually exposing oneself to water environments, starting from less intimidating settings and progressing towards larger bodies of water, individuals can desensitize themselves to their fear over time.
3. Seeking Professional Support
When the fear of large water bodies becomes debilitating, seeking professional help can provide valuable guidance. Therapists, counselors, or psychologists with expertise in anxiety and phobias can offer tailored strategies to address the specific fears and triggers associated with megalohydrothalassophobia.
4. Mindfulness and Relaxation Techniques
Practicing mindfulness and relaxation techniques can aid in managing anxiety and panic associated with the fear of water bodies. Techniques like deep breathing, meditation, and progressive muscle relaxation can help individuals regain a sense of calm and control in anxiety-inducing situations.
Megalohydrothalassophobia is a complex fear that intertwines personal experiences, evolutionary history, and psychological triggers. While it can significantly impact an individual's life, it's not a fear that should define or confine anyone.
With education, exposure, professional guidance, and self-care techniques, overcoming this fear and embracing water bodies can become a reality.
10+ Ways to Overcome Fear of Megalohydrothalassophobia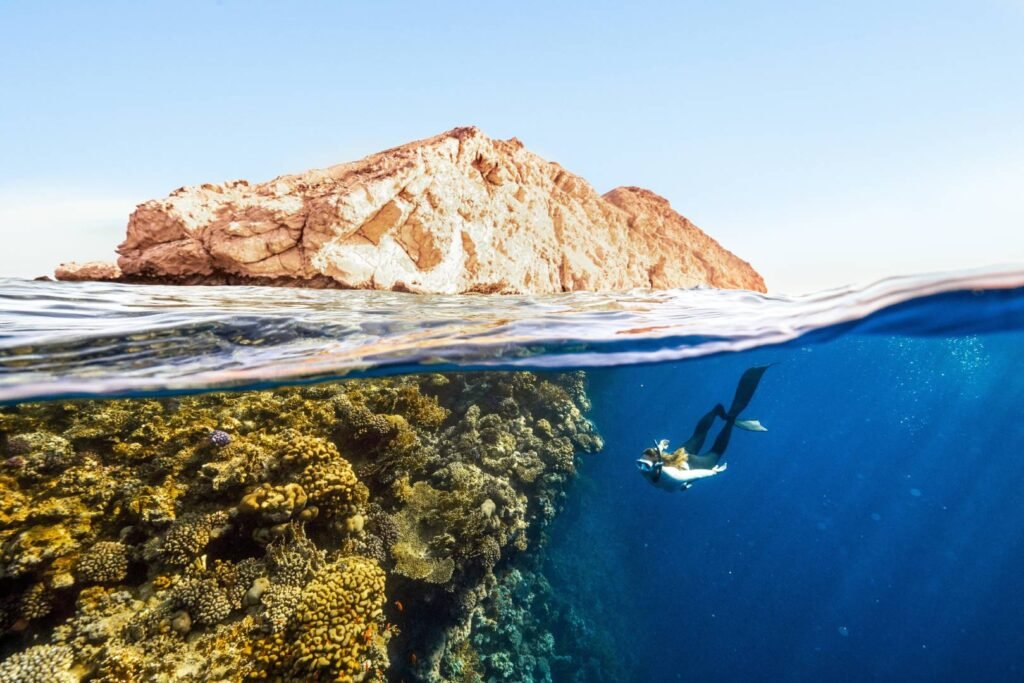 Overcoming this phobia requires a gradual and patient approach. Here are some steps you can take to address and manage megalohydrothalassophobia:
Educate Yourself: Understanding the root causes of your fear can be the first step towards managing it. Learning about the ocean, its ecosystems, and the safety measures in place can help dispel misconceptions and irrational fears.
Start Small: Gradual exposure to water environments can help desensitize you to the fear. Begin by visiting a calm and shallow beach or a lake. Spend some time near the water, observing its movements and sounds.
Seek Professional Help: If your fear is severely impacting your life, consider speaking with a therapist who specializes in treating phobias. Cognitive-behavioral therapy (CBT) and exposure therapy are common approaches that can help you confront and manage your fear in a controlled environment.
Practice Relaxation Techniques: Learning relaxation techniques like deep breathing, meditation, or progressive muscle relaxation can help you manage anxiety when faced with triggering situations.
Bring a Support System: Being around friends or family who understand your fear and can provide emotional support can make facing your fear less daunting.
Gradual Exposure: As you become more comfortable with smaller bodies of water, progressively challenge yourself to encounter larger bodies of water. This might involve moving from shallow areas to slightly deeper ones.
Safety Precautions: Knowing how to swim and understanding water safety measures can help build your confidence. Enroll in swimming lessons if you're not a confident swimmer.
Visualization: Imagining positive scenarios involving water and visualizing yourself calm and in control can help reduce anxiety when facing real situations.
Positive Affirmations: Replace negative thoughts with positive affirmations that reinforce your ability to manage your fear and stay calm.
Set Achievable Goals: Break down your progress into achievable goals. Celebrate each step you take towards overcoming your fear.
Avoid Avoidance: While avoidance might provide temporary relief, it can reinforce your fear in the long run. Gradually confronting your fear is a more effective approach.
Patience and Persistence: Overcoming a phobia takes time. Be patient with yourself and acknowledge your progress, no matter how small it may seem.
Remember that overcoming megalohydrothalassophobia is a personal journey, and what works for one person might not work for another. Tailor these strategies to your own comfort level and pace, and don't hesitate to seek professional guidance if needed.
Also Read,