Aneroid barometers are fascinating devices that measure atmospheric pressure and provide valuable information about weather patterns. Whether you're a weather enthusiast, a professional meteorologist, or simply curious about the science behind barometric pressure.
This complete guide will help you understand aneroid barometers and their significance. In this article, we will delve into the workings of aneroid barometers, their history, types, advantages, and disadvantages.
Additionally, we will explore how to use and maintain these instruments, compare them with other barometer types, provide tips for buying the right aneroid barometer, and address frequently asked questions.
What is an Aneroid Barometer?
An aneroid barometer is a scientific instrument used to measure atmospheric pressure. Unlike mercury barometers, which use a column of mercury to determine pressure, aneroid barometers employ a flexible metal cell, typically made of a sealed capsule containing a partial vacuum. The cell expands or contracts based on changes in atmospheric pressure, which are then translated into a mechanical displacement that can be read on a dial.
How Does an Aneroid Barometer Work?
The key component of an aneroid barometer is the metal cell, which consists of two metal discs that are stacked and connected by a spring. The upper disc is fixed, while the lower disc moves in response to pressure changes. As atmospheric pressure increases, the cell compresses, causing the lower disc to move inward.
Conversely, when atmospheric pressure decreases, the cell expands, pushing the lower disc outward. This motion is translated into a pointer or needle on the barometer's dial, indicating the pressure reading.
Also read: Working of Aneroid Barometers
The History of Aneroid Barometers
The development of aneroid barometers can be traced back to the mid-19th century. The invention is attributed to Lucien Vidi, a French scientist, who patented the aneroid barometer design in 1844. Prior to the invention of aneroid barometers, mercury barometers were widely used, but their fragile and bulky nature made them less practical for portable use.
The compact and durable design of aneroid barometers revolutionized atmospheric pressure measurements and made them more accessible to a broader audience.
Types of Aneroid Barometers
Aneroid barometers come in various types, each with its own unique features and applications. The two primary types are:
1. Pocket Aneroid Barometers
These compact and portable barometers are designed for outdoor use. They often come with protective cases and can be easily carried in a pocket or backpack. Pocket aneroid barometers are favored for hiking, camping, or other outdoor activities where monitoring weather conditions is essential.
2. Wall-Mounted Aneroid Barometers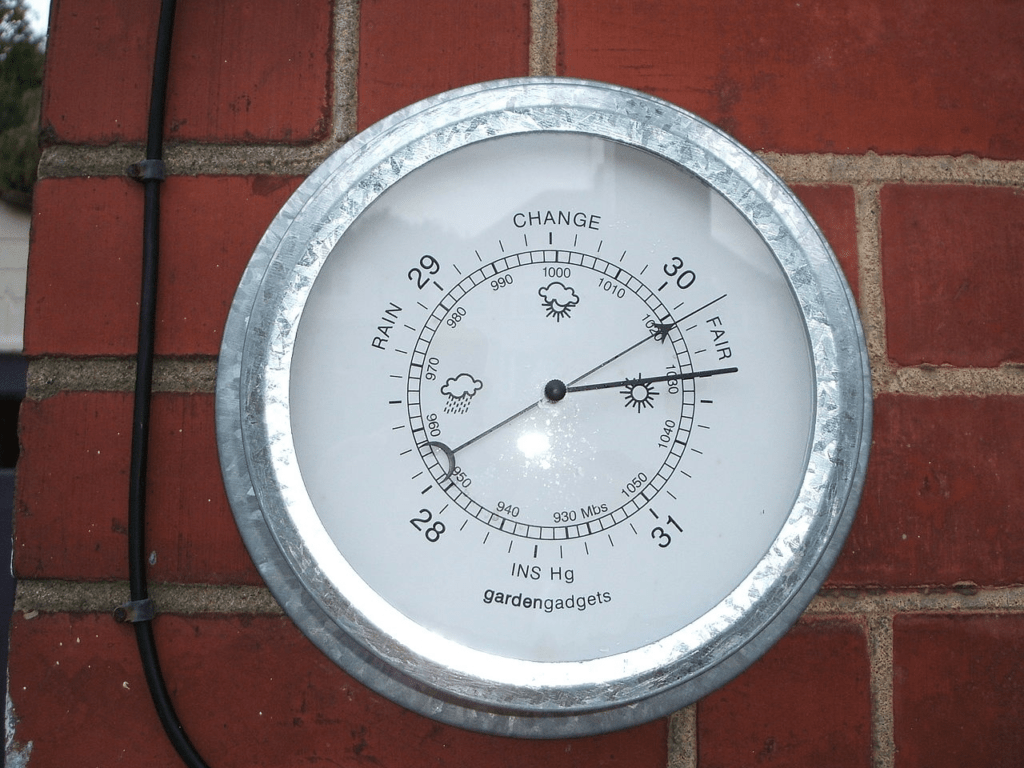 These barometers are larger and designed to be mounted on walls or displayed on desks or shelves. They often have decorative casings and serve as both functional instruments and aesthetically pleasing decor pieces. Wall-mounted aneroid barometers are commonly found in homes, offices, and educational institutions.
Advantages of Aneroid Barometers
Aneroid barometers offer several advantages over other types of barometers:
Portability: Unlike mercury barometers, aneroid barometers are lightweight and compact, making them highly portable and convenient for on-the-go use.
Durability: Aneroid barometers do not contain any liquid, eliminating the risk of spills or leaks. This makes them more durable and less prone to damage during transportation or accidental mishandling.
Maintenance-Free: Aneroid barometers do not require regular maintenance or refilling, unlike mercury barometers that may require periodic calibration and replenishment of mercury.
Accuracy: With advancements in technology, modern aneroid barometers can provide accurate and reliable pressure readings, comparable to mercury barometers.
Disadvantages of Aneroid Barometers
While aneroid barometers have numerous advantages, they also have a few limitations:
Sensitivity to Temperature Changes: Aneroid barometers can be affected by temperature variations, which may introduce slight inaccuracies in pressure readings. It's important to keep them away from direct heat sources or extreme temperature conditions.
Calibration: Over time, aneroid barometers may drift slightly from their initial calibration and require recalibration to maintain accuracy. However, this is typically a simple process that can be performed by professionals or experienced users.
Fragility: Despite being more durable than mercury barometers, aneroid barometers are still delicate instruments that can be damaged if mishandled or subjected to significant impacts. Care should be taken when transporting or storing them to prevent damage to the delicate metal cell.
How to Use an Aneroid Barometer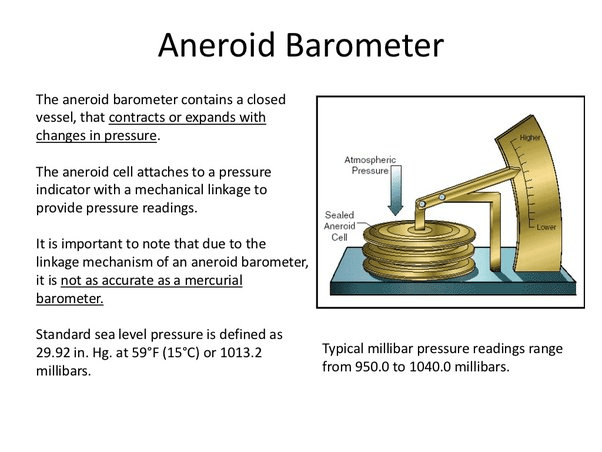 Using an aneroid barometer is straightforward:
Placement: Ensure the barometer is placed in a location away from direct sunlight, drafts, or heat sources, as these factors can affect the accuracy of readings.
Calibration: If your aneroid barometer has a calibration screw, consult the manufacturer's instructions or seek professional assistance to calibrate it accurately.
Reading the Dial: The barometer's dial features a pointer or needle that indicates the current atmospheric pressure. Take note of the numerical values or markings on the dial corresponding to the pointer's position.
Interpreting the Readings: Familiarize yourself with the basic principles of interpreting barometric pressure. Rising pressure typically indicates fair weather, while falling pressure often indicates the approach of inclement weather.
Tracking Pressure Changes: Regularly observe and record pressure readings to track changes over time. This information can be valuable for weather forecasting and identifying atmospheric trends.
Maintaining an Aneroid Barometer
To ensure the longevity and accuracy of your aneroid barometer, follow these maintenance tips
Dusting: Regularly dust the barometer using a soft, lint-free cloth to remove any accumulated dirt or particles. Avoid using abrasive materials or cleaning agents that could damage the instrument.
Avoid Moisture: Protect the barometer from excessive moisture, as it can cause corrosion or affect the metal cell's performance. Keep it away from areas prone to humidity or condensation.
Check for Damage: Periodically inspect the barometer for any signs of physical damage or wear. Pay attention to the integrity of
the metal cell, the dial, and the housing. If you notice any cracks, dents, or abnormalities, it's advisable to have the barometer inspected or repaired by a professional.
Recalibration: If you suspect that your aneroid barometer is no longer providing accurate readings, consider having it recalibrated by a qualified technician. They can make necessary adjustments to restore its precision.
Storage: When not in use, store the barometer in a protective case or cover to shield it from dust and potential damage. Choose a safe and dry location away from extreme temperature fluctuations.
Comparing Aneroid Barometers with Other Types
Aneroid barometers offer distinct advantages and differences compared to other types of barometers. Let's explore a few key comparisons:
Aneroid Barometers vs. Mercury Barometers: Aneroid barometers are preferred by many due to their portability, durability, and ease of use. Unlike mercury barometers, they do not pose health and environmental risks associated with mercury. However, mercury barometers are still considered the gold standard for accuracy and are commonly used in professional meteorological applications.
Aneroid Barometers vs. Digital Barometers: Digital barometers utilize electronic sensors and displays to provide pressure readings. They often offer additional features like temperature measurement and historical data recording. While digital barometers are convenient and easy to read, some people prefer the traditional charm and simplicity of analog aneroid barometers.
Aneroid Barometers vs. Weather Stations: Weather stations incorporate multiple sensors, including anemometers, hygrometers, and rain gauges, along with a barometer. These comprehensive systems provide a broader range of weather data for advanced analysis and forecasting. Aneroid barometers, on the other hand, are standalone instruments solely focused on measuring atmospheric pressure.
Choosing the Right Aneroid Barometer
When selecting an aneroid barometer, consider the following factors:
Purpose: Determine whether you need a portable pocket barometer for outdoor use or a wall-mounted barometer for indoor display. This will help you narrow down your options.
Design and Aesthetics: Aneroid barometers come in various designs and styles. Choose one that matches your personal taste and complements the decor of the intended location.
Quality and Accuracy: Opt for a reputable brand known for producing high-quality instruments. Read reviews, check customer ratings, and seek recommendations to ensure accuracy and reliability.
Additional Features: Some aneroid barometers may include features such as built-in thermometers or humidity indicators. Consider whether these additional functions align with your needs.
Price: Set a budget range and explore options within that range. Remember that higher-priced barometers may offer greater accuracy and durability.
You may also like,
Tips for Buying an Aneroid Barometer
Here are a few tips to guide you during the purchasing process:
Research: Take time to research different brands, models, and customer reviews. Gain an understanding of the market and the specific features and qualities you desire in an aneroid barometer.
Consult Experts: Seek advice from professionals or experienced users who can provide insights into reputable brands and models based on their firsthand experience.
Purchase from Reliable Sources: To ensure authenticity and quality, purchase your aneroid barometer from trusted retailers or official brand websites. Be cautious of counterfeit products.
Warranty and After-Sales Service: Check the warranty offered by the manufacturer or seller. A good warranty ensures peace of mind and protection against potential defects.
Consider Your Expertise: Assess your level of expertise in using and maintaining barometers. Some models may require more technical knowledge or regular calibration, which may be more suitable for experienced users or professionals. Choose a model that aligns with your level of expertise.
Conclusion
In conclusion, aneroid barometers are valuable instruments for measuring atmospheric pressure and gaining insights into weather patterns. Their compactness, durability, and accuracy make them popular among weather enthusiasts and professionals alike.
By understanding how aneroid barometers work, their advantages and disadvantages, and how to use and maintain them properly, you can make informed decisions when purchasing and utilizing these instruments.
Whether you're an avid weather watcher or simply intrigued by the science behind barometric pressure, aneroid barometers offer a fascinating window into the ever-changing dynamics of our atmosphere.
FAQs Regarding
Are aneroid barometers accurate? Yes, aneroid barometers can provide accurate pressure readings when properly calibrated. However, periodic recalibration may be necessary to maintain optimal accuracy.
Can aneroid barometers be used outdoors? Absolutely! In fact, many aneroid barometers are specifically designed for outdoor use, making them ideal companions for activities such as hiking, camping, or boating.
How often should an aneroid barometer be calibrated? The frequency of calibration depends on the specific model and manufacturer's recommendations. In general, aneroid barometers should be calibrated every 1-2 years or when you suspect a deviation in readings.
Can I repair a broken aneroid barometer? Repairing an aneroid barometer may require specialized skills and equipment. It's advisable to consult a professional or contact the manufacturer for guidance on repairs or replacements.
Are aneroid barometers suitable for professional use? Aneroid barometers are commonly used by professionals in meteorology, aviation, and other scientific fields. However, the suitability depends on the specific requirements and precision level needed for the professional application.