Icon of the Seas is the Latest and Largest Cruise Ship ever built by Royal Caribbean and it's First Voyage is announced! Are you Ready to Sail on World's largest Cruise ship Ever 2023
The world's largest cruise ship recently completed its first sailing and is almost ready to start sailing from Florida.
Royal Caribbean's Icon of the Seas successfully completed its initial round of sea trials and sailed the open ocean for the first time. The ship returned to the Meyer Turku, Finland shipyard, where it is under construction.
Icon of the Seas – Second Round of Sea Trails to begin soon
Royal Caribbean has announced that the Icon of the Seas will undergo a second round of sea trials later this year, during which it will be pushed to its limits to ensure its performance and safety. These trials are an essential part of the ship's development process.
Upon its completion, the Icon of the Seas will boast an impressive 20 total decks, offering ample space for both guests and crew. It will be capable of accommodating up to 7,600 passengers and will have a crew complement of 2,350 members, ensuring exceptional service and comfort for everyone on board.
Also Read Beautiful Ship Names: Captivating Titles for Seafaring Beauties
The ship features the largest water park at sea, with six record-breaking waterslides and seven pools. The Frightening Bolt will be the tallest waterslide to sail and Pressure Drop will be the first open freefall waterslide on a cruise.
The first Icon class ship is expected to debut in Miami in January 2024, where it will sail seven-night Eastern and Western Caribbean vacations all year.
Royal Caribbean said the ship will arrive in late 2023 and be the "first-of-its-kind combination of the best of every vacation."
Icon of the Seas – World's largest cruise ship First Voyage Details & Exclusive Features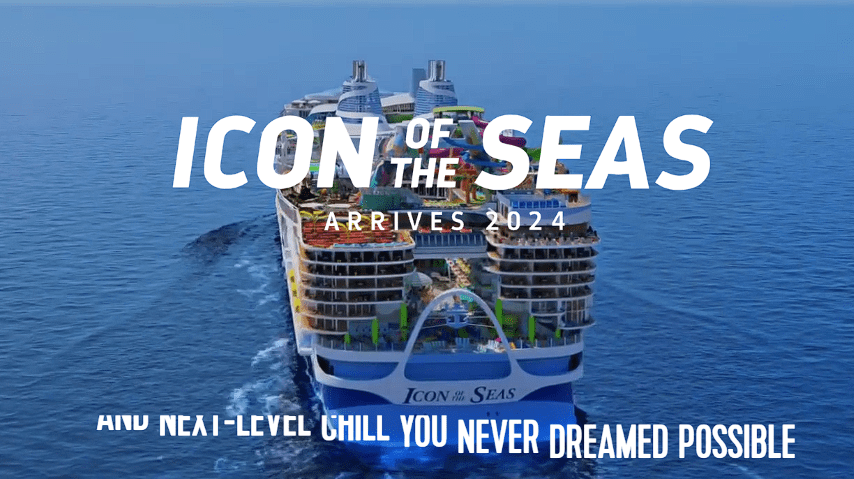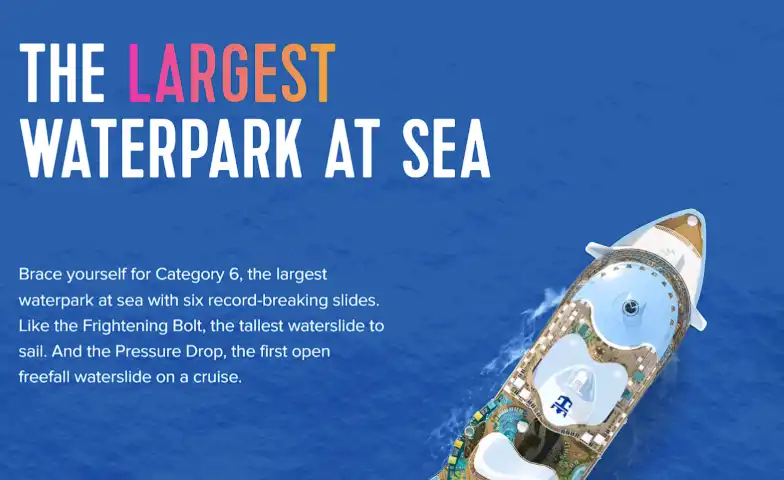 If you are looking for an unforgettable vacation experience, you might want to consider booking a trip on the Icon of the Seas, the world's largest cruise ship. This magnificent vessel is set to make its first voyage in December 2023, and it promises to offer a range of amenities and attractions that will appeal to travelers of all ages and interests.
The Icon of the Seas is the first of a new class of ships from Royal Caribbean International, and it is designed to be more environmentally friendly than its predecessors. The ship will use liquefied natural gas (LNG) as its primary fuel source, which reduces greenhouse gas emissions by up to 25%. It will also feature advanced waste management systems, energy-efficient lighting, and water-saving technologies.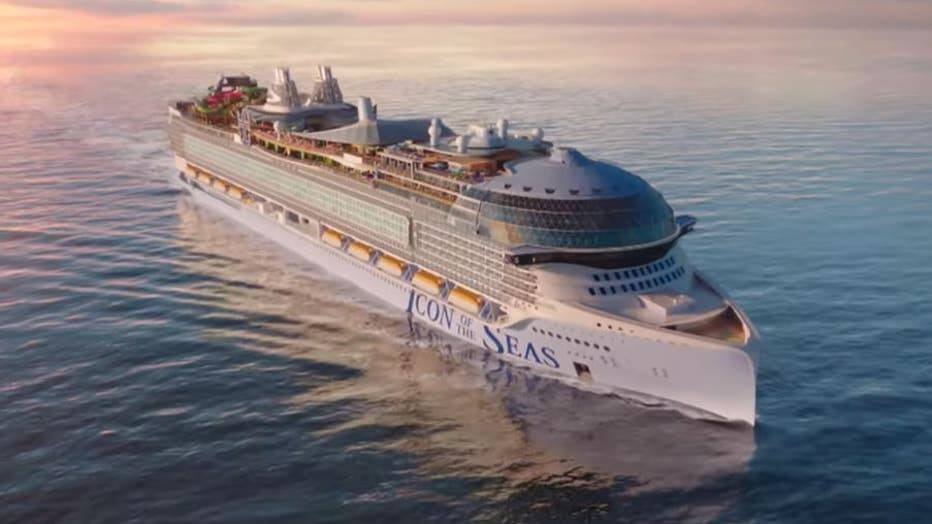 The ship will have a capacity of over 6,000 passengers and 2,000 crew members, making it the largest cruise ship ever built. It will span 18 decks and measure 1,188 feet long and 215 feet wide. It will feature a variety of entertainment options, including a zip line, a surf simulator, a rock climbing wall, a water park, an ice skating rink, a mini golf course, and a casino. It will also have a theater, a spa, a fitness center, a library, and several lounges and bars.
Do you Know? Ship Size Chart – Classification of Ships by Size
The ship will offer a wide range of dining options, from casual buffets and cafes to fine dining restaurants and specialty cuisines. Some of the highlights include a steakhouse, an Italian trattoria, a sushi bar, a French bistro, and a seafood grill. The ship will also have a Starbucks, a Ben & Jerry's, and a Johnny Rockets.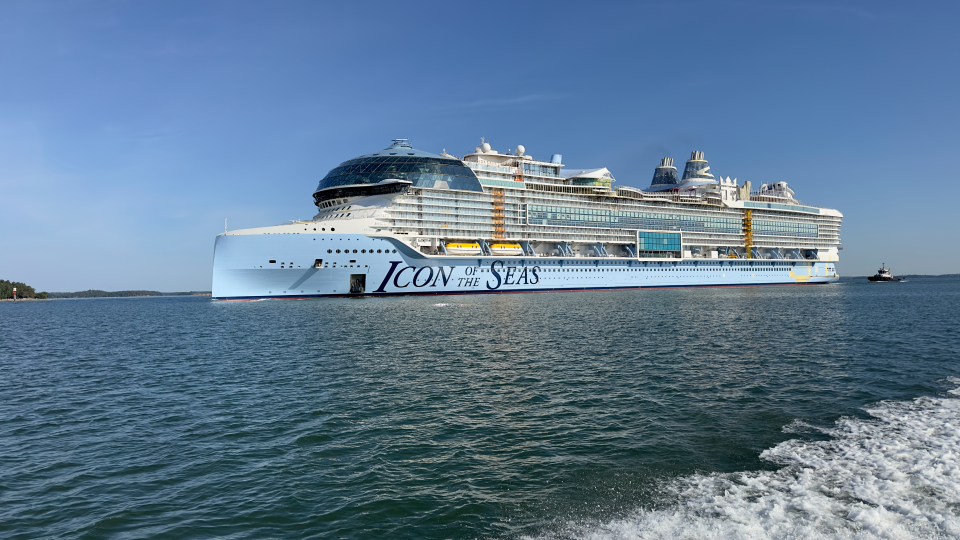 The ship will sail from Miami to various destinations in the Caribbean, including the Bahamas, Jamaica, Puerto Rico, St. Maarten, and St. Kitts. The first voyage will last for seven nights and depart on December 10th, 2023. The prices start from $1,499 per person for an interior cabin and go up to $12,999 per person for a suite.
If you are interested in booking a trip on the Icon of the Seas, you can visit the Royal Caribbean website or contact your travel agent. You can also follow the ship's progress on social media and watch live streams of its construction and launch.
Exclusive experiences & Details of Icon of the Seas
Some of the experiences to look forward to on Icon of the Seas are detailed below:
Thrill Island – This lost island adventure is home Category 6, the largest waterpark at sea, with six record-breaking slides: Pressure Drop and its 66-degree incline make it the industry's first open free-fall slide; the 46-foot-tall Frightening Bolt, the tallest drop slide at sea; Storm Surge and Hurricane Hunter, the first family raft slides at sea with four riders per raft; and Storm Chasers, cruising's first mat-racing duo.
Chill Island – Among the seven pools on board, four are in this three-deck slice of paradise. There's a pool for every mood, each with prime ocean views: the vibrant Swim & Tonic, the line's first swim-up bar at sea; Royal Bay Pool, the largest pool at sea; Cloud 17, an adults-only retreat; and the serene, infinity-edge Cove Pool. Plus, The Lime & Coconut returns with four locations, including Royal Caribbean's first frozen cocktail bar.
Surfside – This family-friendly oasis is where grownups can chill at the Water's Edge pool, as they keep an eye on the kids at Splashaway Bay and Baby Bay.
The Hideaway – This neighborhood 135 feet above the ocean and combines good vibes of beach club scenes around the world and breathtaking ocean views. The first suspended infinity pool at sea is at the center of it all.
AquaDome – In a tranquil oasis by day, guests can take in wraparound ocean views and an awe-inspiring waterfall as they enjoy a bite or drink. By night, it becomes a vibrant place great for a night out, complete with restaurants, bars and the cruise line's marquee aqua shows at the next-level AquaTheater.
Don't miss this opportunity to be among the first to experience the world's largest cruise ship!
You may also like,