I know you're destroyed by life and want to skip life and spend some quality time near the coastline, here I've compiled Top 10 Best Beaches in Panama
With coastline and islands along the Caribbean Sea and the Pacific Ocean, Panama is home to some fantastic beaches. Beaches along Panama's Pacific Coast are mainly long and wide with large waves, ideal for surfing, while the Caribbean side offers smaller beaches with calm waters, perfect for swimming and relaxing. Many of Panama's best beaches can actually be found on palm-fringed islands in the Caribbean.
Beaches on the Caribbean side enjoy pleasant breezes off the water, and the weather can be wet at times with passing showers. The Pacific side enjoys more sun and hot winds that sweep across the mainland. Access to the Pacific beaches from Panama City is easy, and some are even day trips. The Caribbean side is more remote, but the islands of Bocas Del Toro can be reached by flights, making them more accessible than they seem.
To help plan your trip, see our picks for the best beaches in Panama.
Note: Some businesses may be temporarily closed due to recent global health and safety issues.
1. Beaches of the San Blas Islands
Beaches of the San Blas Islands is one of the Best Beaches in Panama. Some of the most beautiful beaches in Panama are in the remote San Blas Islands in the Caribbean. These are the gorgeous stretches of white sand you frequently see in photos, consisting of azure waters and small islands with palm trees swaying in the wind. These do exist, but you need to be prepared to rough it a little to experience it. You won't find luxury resorts on these islands.
The San Blas Islands are owned by the Kuna people, and to stay here you need to follow a certain process and reserve with them.
Another much more luxurious and expensive way to visit the island is via private yacht, stopping in at various islands along the way and sleeping and eating on board.
2. Red Frog Beach
Another incredible beach in the Bocas Del Toro region is Red Frog Beach. #2 is one of the Best Beaches in Panama. Named for the small frog that inhabits the Isla Bastimentos, this beach is reached by boat from the main town of Bocas, followed by a 10-minute walk through the jungle.
Although this is a popular beach, with lots of visitors, and a good spot for people watching, it's big enough that it doesn't seem overrun. The waves here are smaller than you'll find in places like Bluff Beach, just perfect for those who like to ease their way into the water without getting bowled over.
If you want to spend a few days here, be sure to book accommodation in advance. During high season, the area is often booked. Budget travelers may want to consider the Selina Red Frog, which offers a range of accommodation options, from bungalows, standard rooms, and suites, right through to dorm rooms. If you are looking for luxury accommodation in the area, the Red Frog Beach Island Resort is probably the right place.
3. Starfish Beach (Best Beaches in Panama)
Ideal for families with small children or travelers seeking a postcard-perfect, placid beach, Starfish Beach is one of the nicest beaches in Bocas del Toro. Situated on the back side of Isla Colon in the Bocas del Toro area in a bay and is protected from the waves of the ocean.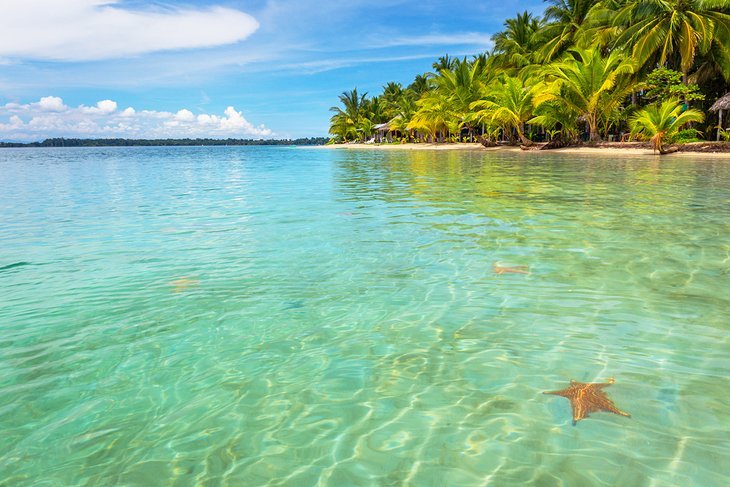 You can choose to laze on the beach, go swimming, rent a floating chair, kayak, snorkel, or for the more adventurous, go wakeboarding. Just back from the beach are restaurants serving local and international fare set among the swaying palm trees.
From the main town of Bocas, it's an easy taxi ride to Boca del Drago, followed by a short boat ride to Starfish Beach.
4. Isla Coiba in Coiba National Park
Adventurers will want to venture out to Isla Coiba to enjoy an uninhabited jungle island with stunning beaches and an abundance of wildlife. The main beach here is a beautiful crescent of sand with a small island just offshore. Snorkeling here is wonderful, and scuba divers can put this on their bucket list for an opportunity to swim with whale sharks.
Off the beach, this is a paradise for nature lovers. The island is home to more than 200 different kinds of birds, crocodiles, snakes, and turtles. Isla Coiba is best reached via boat from Santa Catalina.
5. Bluff Beach
This is one of the few beaches on Isla Colon in the Bocas del Toro area that has large waves and is still swimmable. It is a popular destination for surfers and boogie boarders. Soft golden sands run for eight kilometers, so it's easy to find your patch of paradise and watch the waves roll in.
It's very quiet out here. You'll likely see very few other people, and if you are looking to get away from it all, this is the place to be. A few restaurants can be found nearby, but for the most part, it's best to bring your own food and supplies.
The road to Playa Bluff is dirt in many areas and can be bumpy, however, the ride is worth it. You have a good chance of seeing sloths hanging out in the trees and monkeys noisily swinging about.
6. Punta Chame
If this beach was backed by a more vibrant town and setting, this could be the best beach in Panama. That said, when you are standing on the soft sand looking out across the water to the mountains, it is arguably the most beautiful beach in Panama.
Punta Chame is a good place for families. Small children and those who are not strong swimmers can enjoy the warm, shallow water, and parents can just laze on the beach.
This local secret is only 1.5 hours from Panama City and is primarily a day trip destination. While the town offers very little or nothing by way of nightlife, a handful of beautiful small resorts line the ocean, and cheap hotels, hostels, and mid-range properties can be found off the beach.
7. Punta Duarte
This wonderful wide beach is one of the few beaches in Panama where you can catch a sunset over the Pacific Ocean. The setting for the beach is dramatic, with an offshore island that becomes attached to the mainland at low tide.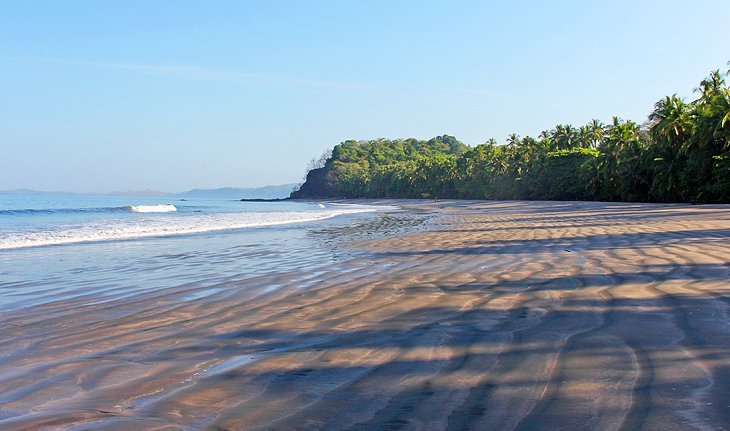 Overlooking the beach at one end is the Punta Duarte Garden Inn, a lovely small hotel serving breakfast and, if guests let the owner know in advance, home-cooked dinners. You can watch the sunset from your balcony, the restaurant area, or the pool.
Punta Duarte is located 1.5 hours down the only highway on what is known as the Sunset Coast. The turnoff from the Pan American Highway is just before Santiago on the left-hand side when you are coming from Panama City.
8. Beaches of Santa Catalina
The once sleepy town of Santa Catalina, located across the bay from the Sunset Coast, has become one of the destinations of choice for independent travelers in Panama. Several beaches can be found here. For surfers who love large waves, La Punta is the beach.
Looking for wide-open, flat sand ideal for riding a horse or a bicycle? Be sure to check out La Coquita, a good place for wading into bathtub-warm waters. Closer to town, with smaller waves and a nice place to splash about or learn to surf, is Playa Estero. This is a huge beach where you'll have no trouble finding your own sandy spot to hang out.
The town of Santa Catalina has a fun vibe plus a wide variety of restaurants and accommodation options.
9. La Punta on Isla Grande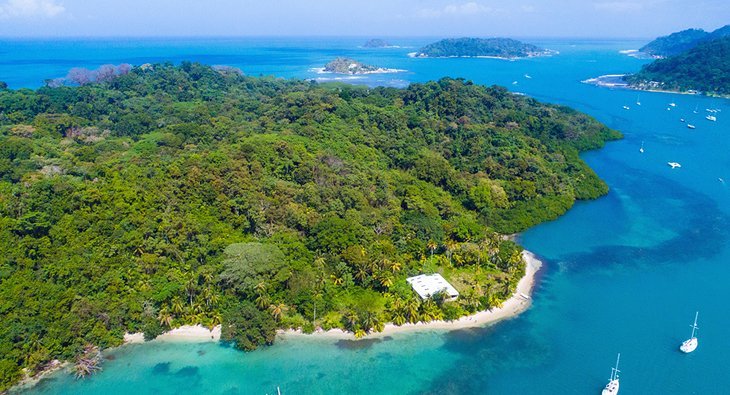 A popular weekend destination from Panama City for foreigners and Panamanians is Isla Grande, easily accessible via a two-hour drive and a short 10-minute boat ride. This small island on the Caribbean side of Panama is known for its beach, called La Punta, where you'll find calm, shallow waters; picnic tables; freshwater showers; and chairs.
There's more to do here than just laze about on the beach. Three great surf breaks, stunning snorkeling, fresh seafood, and the famous 1568 statue called the Black Christ of Portobelo, are some of the main attractions. A daily fee is charged for car parking in the town of Portobelo, the boat shuttle, and to access the beach.
10. Playa Venao
Located on the Peninsula de Azuero, Playa Vanao is considered one of Panama's best surfing destinations. Even if you aren't a surfer, you can set up your beach chair or towel on the golden-brown sands and watch the surfers as they battle the waves. The waves come in various sizes on Playa Venao, making it an excellent place to learn the sport.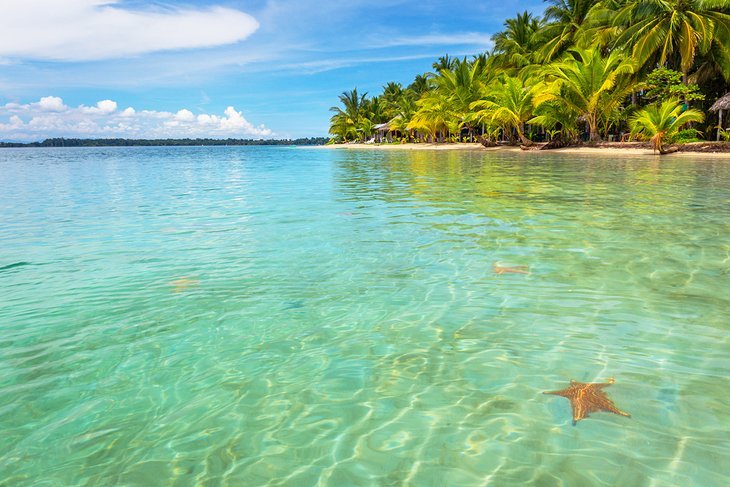 Accommodation ranges from upscale backpacker lodges to luxury hotels on the beach, and cheaper places back in the small town of Pedasi. Playa Venao is just one of many beaches along this coastline; others to check out include Bull Beach and Playa Cambutal.