Polar bears, magnificent creatures of the Arctic, are uniquely adapted to survive in one of the harshest environments on Earth. Sea ice, which covers vast expanses of the Arctic Ocean, plays a crucial role in the polar bear's existence.
In this article, we'll delve into the reasons why sea ice is of paramount importance to these apex predators.
The Hunting Grounds: Seal Feasting
Hunting Efficiency: One of the primary reasons sea ice is vital to polar bears is that it serves as their primary hunting platform. Polar bears are apex predators of the Arctic, and their diet mainly consists of seals. The sea ice provides them with an optimal vantage point to hunt seals, their main source of sustenance. Seals surface through the openings in the ice to breathe, creating perfect opportunities for polar bears to ambush them. The bears' stark white coats blend seamlessly with the ice, allowing them to get astonishingly close to their unsuspecting prey.
Energy Acquisition: Sea ice hunting is not only about survival but also about acquiring the energy required to endure the harsh Arctic conditions. Polar bears are incredibly energy-intensive animals, needing substantial amounts of fat to maintain their body temperature and withstand the frigid climate. A successful seal hunt can provide a polar bear with enough fat to sustain it for weeks, if not longer, enabling the bear to endure periods of scarcity and travel long distances in search of food.
Maternity Wards: Essential Breeding and Rearing Grounds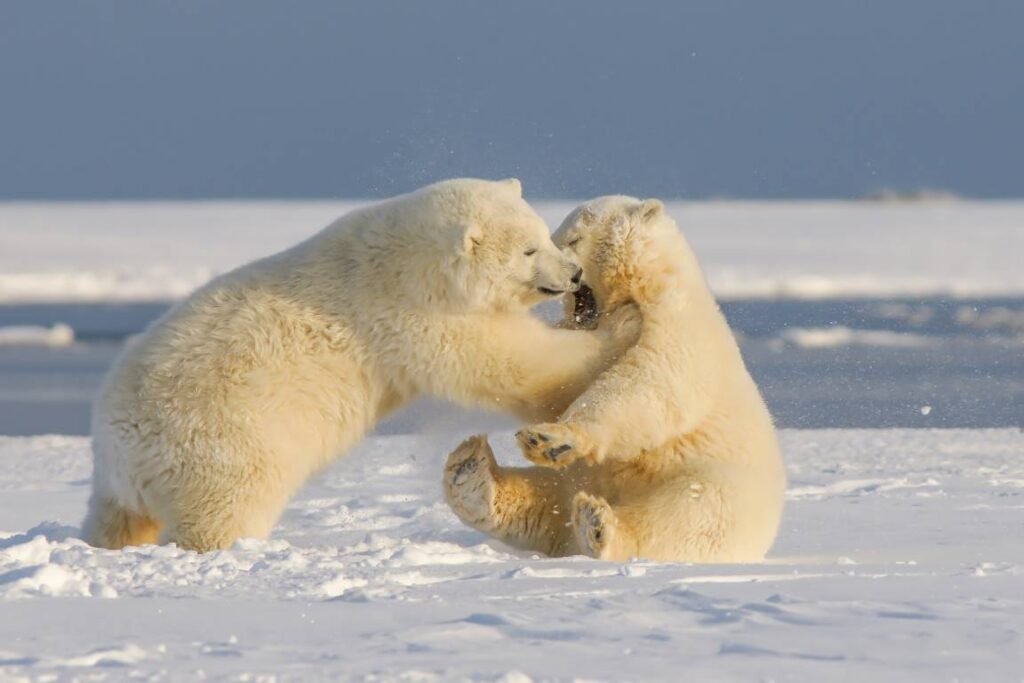 Birth and Maternal Dens: Sea ice is also critical for the reproductive cycle of polar bears. Female polar bears give birth to their cubs in dens constructed on the sea ice. These dens provide protection and insulation from the cold for the vulnerable cubs in their early months. The sea ice's proximity to seal breathing holes ensures that the mother has a nearby and abundant source of food during the nursing period.
Migration and Survival of Cubs: As the cubs grow and gain strength, the sea ice becomes a platform for them to learn and practice essential survival skills. Cubs learn how to navigate the complex ice structures, hunt for food, and develop the instincts necessary for life in the Arctic. The sea ice acts as a classroom and training ground, setting the foundation for their future independence and survival.
Also Read, 12 Most Famous Treasures by the Sea
Conclusion
Sea ice is not just a frozen expanse in the Arctic; it's the lifeblood of the polar bear's existence. From hunting seals to providing a safe haven for birthing and rearing cubs, the ice serves as a fundamental component of the polar bear's way of life.
As climate change continues to impact the Arctic, with decreasing ice coverage, the plight of polar bears becomes even more concerning. Preserving their habitat and ensuring the survival of sea ice is not only crucial for polar bears but for the entire ecosystem that relies on its delicate balance.
FAQs About Polar Bears and Sea Ice
Q: How are polar bears adapted to life on sea ice? A: Polar bears have evolved specific adaptations, such as a thick layer of blubber and water-repellent fur, to thrive in the freezing Arctic environment.
Q: Why is the decline of sea ice a threat to polar bears? A: With diminishing sea ice due to climate change, polar bears face challenges in hunting for food and creating suitable dens for birthing and rearing cubs.
Q: What role do polar bears play in the Arctic ecosystem? A: Polar bears are apex predators and help regulate the population of seals, which in turn affects the balance of the entire marine ecosystem.
Q: Can polar bears swim long distances in search of sea ice? A: While polar bears are strong swimmers, long-distance swims can be exhausting and energy-draining, posing a threat to their survival.
Q: How can individuals contribute to polar bear conservation? A: Individuals can support polar bear conservation by reducing their carbon footprint, advocating for policies that address climate change, and supporting organizations dedicated to Arctic preservation.