Old age is a topic most people want to avoid. It is almost taboo to talk about it in a materialistic society where youth is admired like some kind of jewel. Sooner or later, however, old age — frequently defined as 60 or 65 years of age or older — will come as surely as the ocean tide will kiss the shore. The following quotes may provide some consolation or even inspiration to those who have reached, or are about to reach, this stage in the voyage we call Life.
Sailors have long been revered for their courage, resilience, and affinity with the sea. Over the centuries, they have shared their wisdom through profound quotes and sayings that encapsulate the essence of their experiences and the life they lead.
30 Best Old Sailor Quotes & Sayings
Below are some of the selected 30+ Quotes on old Sailors and Old Age people. In this article, we present 30+ of the best old sailor quotes and sayings, each with deep meanings that resonate beyond the waves.
1. "A smooth sea never made a skilled sailor." – Unknown
This quote highlights the notion that challenges and adversities are what truly shape and strengthen individuals, allowing them to grow and become better versions of themselves.
2. "The wind and the waves are always on the side of the ablest navigators." – Edward Gibbon
Gibbon's words remind us that those who possess skill, knowledge, and adaptability will find a way to overcome any obstacles that come their way.
3. "He who is not courageous enough to take risks will accomplish nothing in life." – Muhammad Ali
Sailors, constantly faced with risks and uncertainties, understand the importance of courage and the willingness to step out of one's comfort zone to achieve greatness.
4. "A ship in harbor is safe, but that is not what ships are built for." – John A. Shedd
This quote speaks to the adventurous spirit of sailors, emphasizing that true fulfillment comes from embracing challenges and venturing into the unknown.
5. "The pessimist complains about the wind; the optimist expects it to change; the realist adjusts the sails." – William Arthur Ward
Sailors, being intimately connected with the wind, understand the importance of adaptability and taking control of one's circumstances rather than merely complaining or hoping for change.
Also read – How to Make a Sailor's Valentine: A Step-by-Step Guide
6. "The cure for anything is saltwater — sweat, tears, or the sea." – Isak Dinesen
This quote beautifully captures the therapeutic and transformative power of the sea, suggesting that it holds the remedies for life's hardships and challenges.
7. "A sailor's joys are as simple as a child's." – Bernard Moitessier
Moitessier reminds us of the pure and unadulterated joy that can be found in the simple pleasures of life, reminiscent of a child's unburdened happiness.
8. "Ships are the nearest things to dreams that hands have ever made." – Robert N. Rose
The craftsmanship and awe-inspiring beauty of ships evoke a sense of wonder and magic, making them tangible embodiments of dreams brought to life.
9. "You can't direct the wind, but you can adjust your sails." – Unknown
This quote emphasizes the importance of adaptability and flexibility in the face of unpredictable circumstances, reminding us that we have the power to navigate our own destinies.
10. "The sea, once it casts its spell, holds one in its net of wonder forever." – Jacques-Yves Cousteau
Cousteau beautifully captures the captivating allure of the sea, suggesting that once one experiences its enchantment, they are forever bound to its wonders.
Also Read: Abandon Ship Poem By Capt. Eldren Goes
11. "A sailor is an artist whose medium is the wind." – Webb Chiles
Chiles draws parallels between sailors and artists, highlighting the creativity and skill required to harness and navigate the ever-changing winds.
12. "The sea, like a true mistress, takes what she will and spits it back when she is finished." – Unknown
This quote metaphorically depicts the sea as a powerful and unpredictable force, capable of both giving and taking away, demanding respect and humility from those who traverse it.
13. "Smooth seas do not make skillful sailors." – African Proverb
Similar to the earlier quote, this proverb emphasizes that true mastery and growth are born out of overcoming challenges and navigating rough waters.
14. "Sailors, with their built-in sense of order, service, and discipline, should really be running the world." – Nicholas Monsarrat
Monsarrat's quote playfully suggests that the qualities inherent in sailors—order, service, and discipline—are essential traits for effective leadership and governance.
15. "A sailor is worth his salt." – Unknown
This saying, rooted in history, implies that sailors are knowledgeable, experienced, and dependable, with their value extending beyond their weight in salt, a precious commodity in ancient times.
16. "The sea, once it casts its spell, holds one in its net of wonder forever." – Jacques-Yves Cousteau
This quote beautifully encapsulates the mesmerizing and captivating nature of the sea, suggesting that once it captures one's heart, its allure becomes eternal.
17. "A smooth sea never made a skilled sailor." – Franklin D. Roosevelt
Roosevelt echoes the sentiment that smooth waters do not test or challenge one's abilities, and it is through overcoming difficulties that true skills are honed.
18. "I find the great thing in this world is not so much where we stand as in what direction we are moving." – Oliver Wendell Holmes Jr.
Sailors understand the importance of progress and forward movement, valuing the journey and the direction they are headed rather than the specific location.
19. "The best sailors are the ones who adapt and adjust." – Unknown
This quote emphasizes the importance of adaptability and the ability to make necessary adjustments in response to changing conditions, a crucial skill for sailors and life in general.
20. "A sailor is an adventurer who sails the seas, embraces the unknown, and discovers the world within and without." – Unknown
This final quote celebrates the adventurous spirit of sailors, highlighting their role as explorers who embark on journeys that not only reveal the external world but also foster personal growth and self-discovery.
The wisdom contained in these old sailor quotes and sayings is a testament to the unique experiences and perspectives of those who have braved the seas. From courage and adaptability to embracing challenges and finding joy in simplicity, these quotes offer profound insights that resonate far beyond the maritime realm. They remind us of the timeless lessons and virtues that can be learned from the sea and the courageous souls who venture upon it.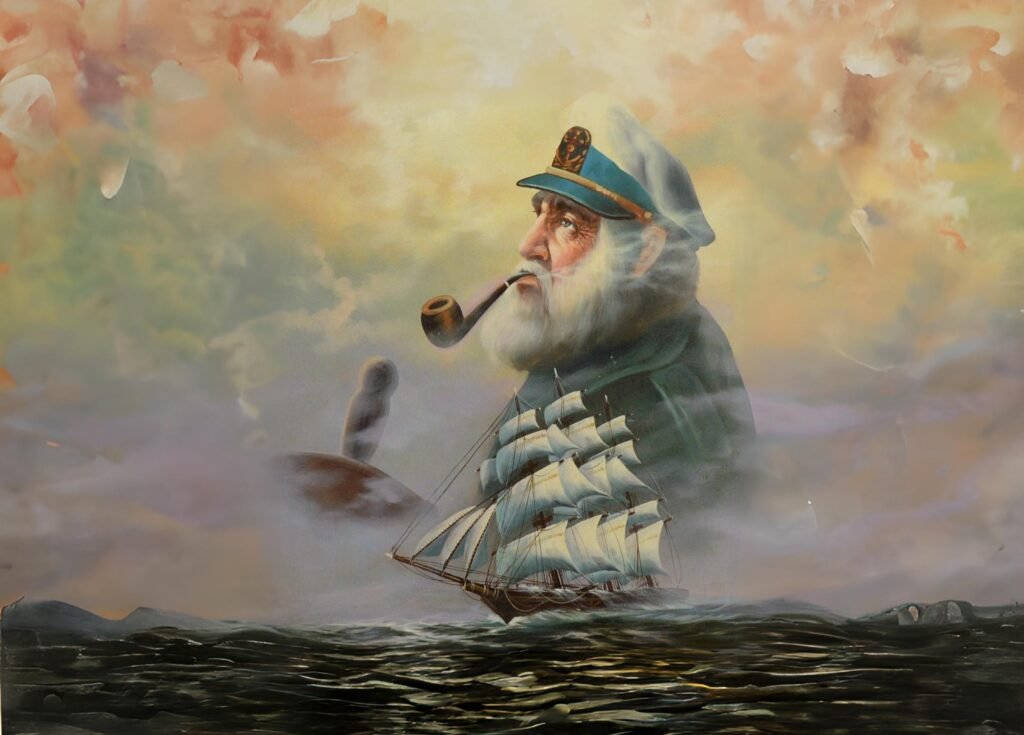 21. Every man desires to live long; but no man would be old.
~ Jonathan Swift, Thoughts on Various Subjects, Moral and Diverting (1706)
22. Old age is the most unexpected of all things that happen to a man.
~ Leon Trotsky, Trotsky's Diary in Exile 1935 (1958)
23. Growing old is no more than a bad habit which a busy man has no time to form.
~ André Maurois, The Art of Living (1940)
24. Men of age object too much, consult too long, adventure too little, repent too soon, and seldom drive business home to the full period, but content themselves with a mediocrity of success.
~ Francis Bacon, Essay XLII, Of Youth and Age (The Essays of Francis Bacon, 1908)
25. There is only one solution if old age is not to be an absurd parody of our former life, and that is to go on pursuing ends that give our existence a meaning.
~ Simone de Beauvoir, The Coming of Age (1970)
26. The real affliction of old age is remorse.
~ Cesare Pavese, The Moon and the Bonfires (originally published 1949)
27. Though I look old, yet I am strong and lusty;
For in my youth I never did apply
Hot and rebellious liquors in my blood;
Nor did not with unbashful forehead woo
The means of weakness and debility;
Therefore my age is as a lusty winter,
Frosty, but kindly.
~ William Shakespeare, As You Like It (c. 1599-1600)
28. I live in that solitude which is painful in youth, but delicious in the years of maturity.
~ Albert Einstein, Out of My Later Years (1950)
29. Age is not all decay; it is the ripening, the swelling of the fresh life within, that withers and bursts the husk.
~ George MacDonald, as quoted in Dictionary of Burning Words of Brilliant Writers (1895)
30. When grace is mingled with wrinkles, it is adorable. There is an indescribable aurora in beaming old age.
~ Victor Hugo, Les Miserables (1887)
31. For age is opportunity no less
Than youth itself, though in another dress,
And as the evening twilight fades away
The sky is filled with stars, invisible by day.
~ Henry Wadsworth Longfellow, Morituri Salutamus (1875)
32. Nobler than a ship safely ending a long voyage, and sublimer than the setting sun, is the old age of a just and kind and useful life.
~ Wm. Mountford, as quoted in Dictionary of Burning Words of Brilliant Writers (1895)
🙂
You may also like,