Port and starboard are nautical terms used to refer to the left and right sides of a vessel, aircraft (or spacecraft!), respectively, when facing forward or towards the bow. Importantly, these are fixed positions.
That means when wherever you're facing on the boat — even if you're looking toward the back/aft — the port side (left) and starboard side (right) don't change. Whether you're on a paddleboard, kayak, raft, rowboat or any bigger water vessel — you'll need to learn port and starboard to keep you safe on the water.
In this article you'll learn everything you need to know about this and 3 top tips to make port and starboard easy to remember!
"Let's go left" "No my left!" — save arguments onboard by learning the port side
An illustration of port and starboard zones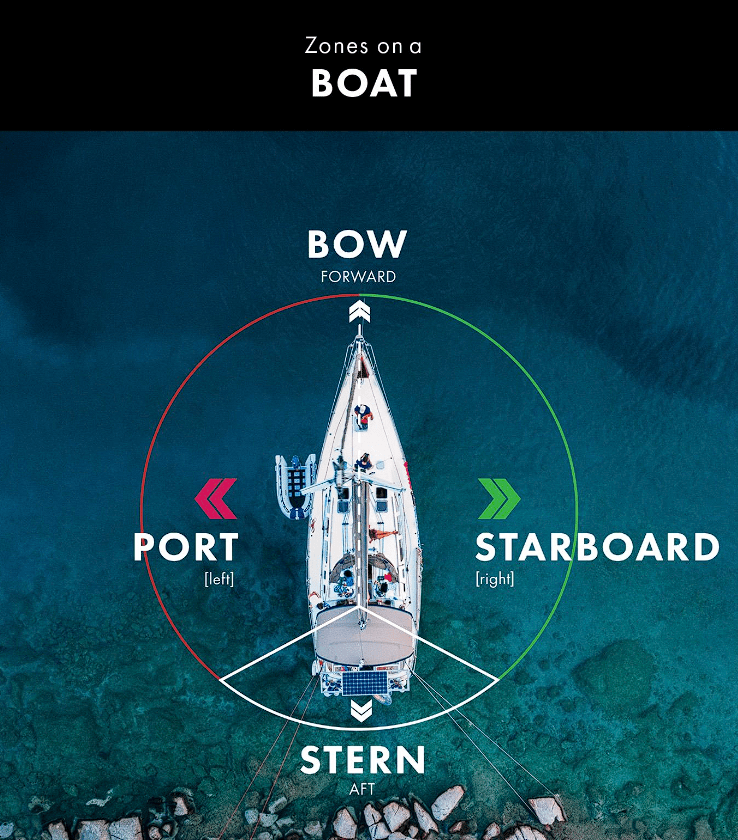 Origin of 'port' and 'starboard'
Starboard combines two old words, stéor ('steer') and bord ('the side of a boat'). The origin can be traced back to the early sailing days when Germanic peoples' ships had steering oars or rudders mounted on the right side.
Consequently, the left side of the ship would face the port (harbor) during docking to ensure that the rudder was not damaged. The predecessor term to 'port' when referring to a ship was 'larboard' but this was easily misheard as starboard — thus it became known as portus "a port/harbor" and then 'port'.
Why is port the colour 'red' and starboard 'green'?
The convention of using red lights to indicate the port side and green lights to indicate the starboard side of a vessel comes from the maritime tradition and is based on historical reasons and practical considerations:
Historically: Navigation lights were derived from the traditional lanterns used on ships. Red glass was readily available and commonly used in lanterns, and to mark the entrances or boundaries of ports and harbors, while green glass was less common and more expensive. These red markers helped ships identify and safely navigate the port side when approaching or departing from a harbor. This led to the convention of using red lights on the port side and green lights on the starboard side.
Consistency and Differentiation: Using different colors for port and starboard lights helps in easily distinguishing the two sides of a vessel, especially during nighttime or low-visibility conditions. Red and green are opposite colours on the colourwheel — their distinct difference aid in quickly identifying the orientation and direction of another vessel, helping to prevent collisions.
International Standards: The International Regulations for Preventing Collisions at Sea (COLREGS) provide guidelines for navigation light colors to ensure consistent practices worldwide. These regulations specify red for the port side, green for the starboard side, and white for other navigation lights, such as masthead lights and stern lights.
It's important to note that while red and green are the most common colors used for port and starboard lights, some vessels may use different combinations or additional lights, depending on their size, type, and operating conditions. However, the red-green convention remains the most widely recognized and followed standard.
Read about MARPOL here: www.marpolguide.com
3 simple tricks to remember port and starboard
Before calling port and starboard becomes second nature, you'll need an easy reminder for which is which. These three mnemonic devices and memory techniques will have you sorted in no time.
1. Use a sailor's saying
There's a few variations of the nautical sayings to remember port and starboard sides but here's the best ones:

There's a little red port left in the bottle.
There's no red port left in the bottle.
Sailors use stars to point them in the right direction after they have left port.
Port side
If you're the glass half full kind of person, this port side saying might suit.
Or perhaps this is a scenario you may remember.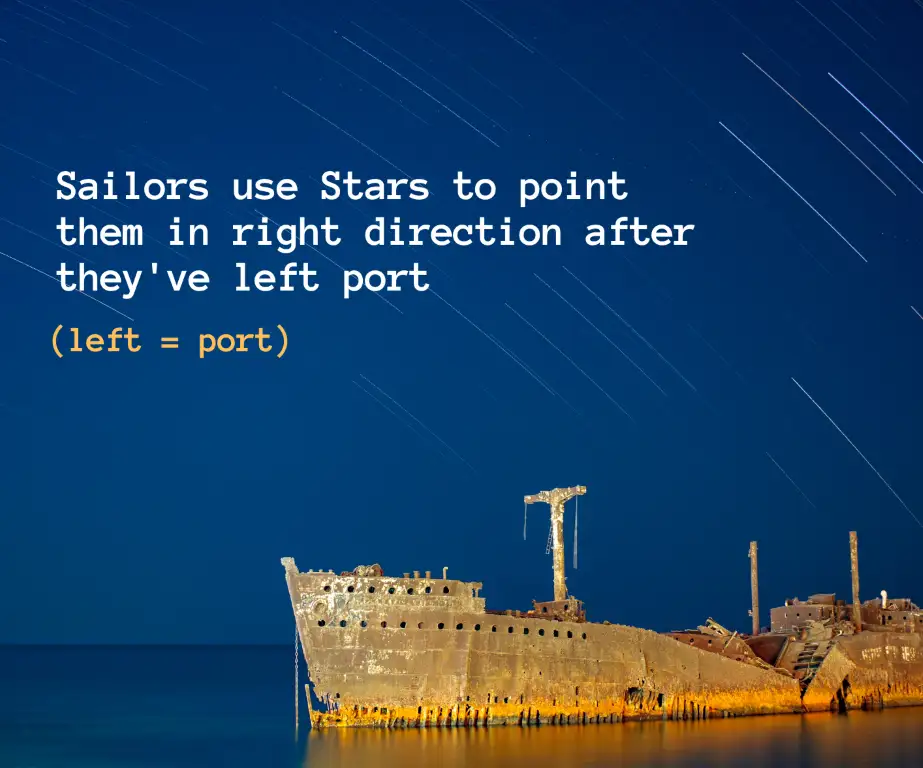 Starboard side
Enjoy stargazing (or Starwars)? Use the stars as a reminder of starboard and port sides.
2. Use a word and number association
Another easy way to remember the difference between port and starboard, is to associate the number of letters in each word, with each term. For example:
Port and left both have four letters (therefore starboard must be right)
3. Use an object association
Sometimes an object is helpful in associating port or starboard. For example, if you always wear a watch on your left hand you might use that as a visual clue — that no matter which way you face, your port side is always on your left, just like your watch.
Why is it so important to learn port and starboard?
Aside from avoiding arguments with your sailing partner about who's "left" or "right" is being referred to, there's some important reasons port and starboard are used:
Navigation and Communication: Port and starboard are fundamental terms used in communication and navigation between crew onboard. Clear and concise communication regarding directions and maneuvers helps ensure safe and effective operations.
Avoiding Collisions: Port and starboard allow for standardized communication when maneuvering boats and ships to avoid collisions. By clearly indicating which side of the vessel is being referred to, it helps prevent confusion and potential accidents.
Docking and Mooring: When approaching a dock or mooring, understanding port and starboard is crucial for guiding the vessel into position. This helps prevent damage to your boat, other nearby vessels, or structures. Docking can be stressful enough, without having to remember which side is which! Being able to relay instructions for setting up fenders or lines on the correct side of the boat (without thinking about it) is super helpful.
Emergency Procedures: In emergency situations, such as a person overboard or when dealing with fires or leaks, quickly relaying information about the location of the incident using port and starboard can facilitate efficient response and rescue efforts.
International Standards: Port and starboard are internationally recognized terms established by maritime and aviation authorities to provide a universal language for navigation and safety. Adhering to these standards allows for effective communication between vessels across different nationalities.
In summary
Overall, knowing port and starboard is crucial for maintaining clear communication, preventing accidents, and ensuring the safe navigation and operation of ships and aircraft.