Welcome aboard! If you've ever wondered how to fish on a moving ship, you've come to the right place. Fishing on a vessel in motion presents a unique set of challenges that require specialized techniques and equipment.
In this comprehensive guide, we will delve into the strategies and tips that will help you become a skilled angler even in the midst of turbulent waters. So, grab your gear, tighten your lines, and let's set sail on this exciting adventure! 🐟
Fishing is a popular recreational activity enjoyed by many, but what if you find yourself on a moving ship? Fishing on a vessel in motion presents unique challenges that require some adjustments in technique and equipment.
Before Reading this Post, you may Read below
In this article, we will explore the art of fishing on a moving ship and provide you with practical tips to enhance your experience.
Understanding the Challenges of Fishing on a Moving Ship
Fishing on a moving ship introduces several challenges that differ from traditional shore or stationary boat fishing. The primary challenge is maintaining balance and stability on a vessel that is constantly in motion.
The shifting waves, wind, and boat vibrations can make it more difficult to cast your line accurately and feel the subtle bites from fish.
But Confirm, Is it allowed to Fish on a Moving Ship
The legality of fishing on a moving ship can vary depending on several factors, including the jurisdiction and specific regulations in place. In general, fishing from a moving ship may be allowed under certain conditions, but it is essential to comply with local laws and regulations to ensure that you are fishing within the legal boundaries.

To determine whether fishing on a moving ship is allowed in a specific area, you should consult the maritime laws and regulations of the country or region where the ship is operating. These laws may address various aspects, such as fishing licenses, permitted fishing methods, protected areas, and restrictions on fishing from moving vessels.

Additionally, it's crucial to consider safety precautions while fishing on a moving ship. Fishing from a moving vessel can pose risks, such as the potential for falling overboard or getting entangled in fishing gear. It is essential to prioritize safety and follow the guidelines provided by the ship's crew or authorities regarding fishing activities.
Here's a Sneaky Video of Someone Fishing on a Moving cruise Ship 🐟
Essential Fishing Gear and Equipment
To fish effectively on a moving ship, it's crucial to have the right gear and equipment. Here are some essentials:
a) Fishing Rod and Reel
Choose a fishing rod and reel combination that is suitable for the type of fish you intend to catch. Opt for a medium to heavy action rod that provides enough strength and sensitivity to handle fish in varying water conditions.
b) Fishing Line
Use a fishing line with a higher pound-test rating to withstand the strain of reeling in fish and to minimize the risk of breakage. A braided line is often preferred as it offers increased strength and sensitivity.
c) Lures and Baits
Select lures and baits that are appropriate for the target fish species. Consider using lures that create vibrations or have bright colors to attract fish in turbulent waters. Live baits such as shrimp, squid, or cut bait can also be effective.
d) Tackle Box
Carry a well-organized tackle box with an assortment of hooks, sinkers, swivels, and other terminal tackle. This ensures that you have the necessary equipment to adapt to changing fishing conditions.
Techniques for Fishing on a Moving Ship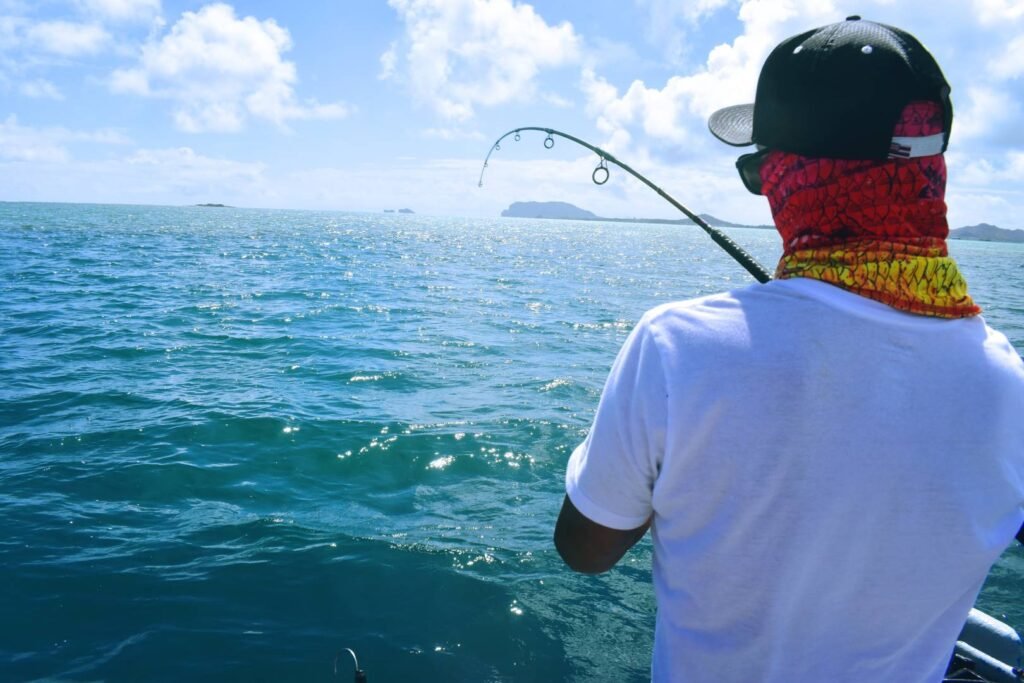 Drift Fishing: Drift fishing is an effective technique for targeting fish species that are attracted to the movement and vibrations of the ship. Position yourself at the ship's stern and cast your line into the water, allowing it to drift naturally. Monitor the movement of the ship and adjust your drift accordingly to cover different areas.
Trolling: Trolling involves dragging lures or baited lines behind the moving ship. Use lures that imitate the local baitfish or select bait that matches the target species. Adjust the trolling speed to match the fish's preferred swimming pace.
Bottom Fishing: When the ship is anchored or moving at a slow speed, bottom fishing can be an effective method. Drop your line to the seabed and use bait that appeals to bottom-dwelling species. Pay attention to any changes in the ship's movement, as these can affect your presentation.
Using Downriggers: Downriggers are invaluable tools for maintaining the desired depth while fishing on a moving ship. Attach your bait or lure to the downrigger cable and lower it to the desired depth. Adjust the tension to ensure it stays at the right level, regardless of the ship's movement.
Choosing the Right Fishing Spot to Fish on a Moving Ship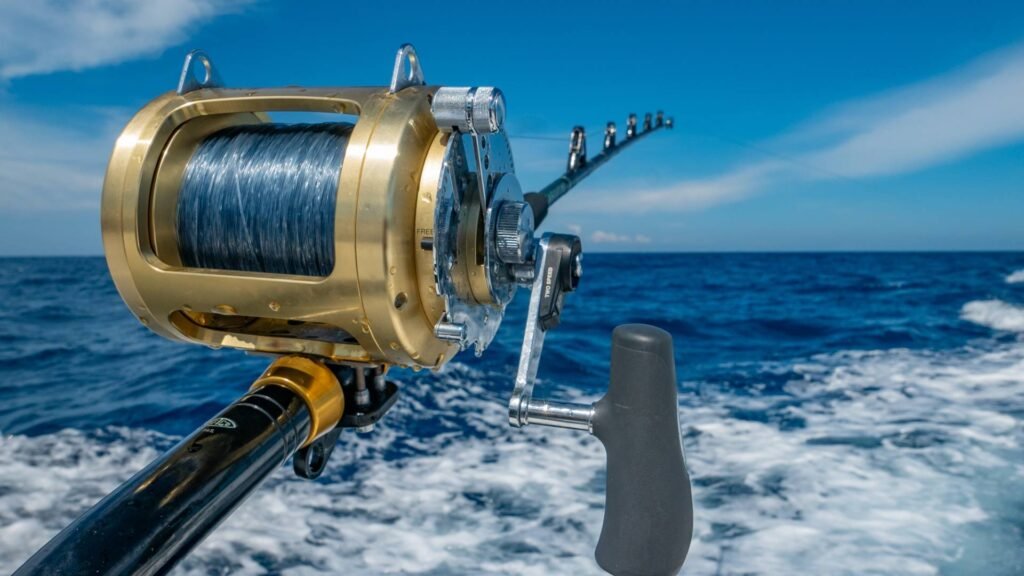 Selecting the right fishing spot is crucial for a successful fishing experience on a moving ship. Here are a few factors to consider:
a) Water Depth
Look for areas with varying water depths, as this can attract different fish species. Drop-offs, reefs, and channels are often productive spots.
b) Currents and Eddies
Identify areas with strong currents or eddies, as these can create ideal feeding conditions for fish.
c) Structure and Cover
Fish are often attracted to structure and cover, such as rocks, wrecks, or floating debris. These areas provide shelter and food sources for fish.
Techniques for Fishing on a Moving Ship
To fish effectively on a moving ship, consider the following techniques:
a) Casting Techniques
When casting, adjust your technique to account for the ship's motion. Aim for shorter, more controlled casts to maintain accuracy and prevent tangling. Cast into the wind or at an angle to compensate for the ship's drift.
b) Vertical Jigging
Vertical jigging is an effective technique when fishing on a moving ship. Lower your lure or bait directly beneath the boat and use a rhythmic up-and-down motion to attract fish.
c) Trolling
Trolling involves dragging lures or baits behind a moving boat. Adjust the speed of the boat and the depth of your bait to target specific fish species. Use downriggers or planer boards to achieve the desired depth.
Safety Considerations While Fishing on a Moving Ship
While fishing on a moving ship can be exhilarating, it's crucial to prioritize safety at all times. Here are some important safety considerations to keep in mind:
When fishing on a moving ship, prioritize safety. Follow these safety considerations:
a) Wear a Life Jacket
Always wear a properly fitting life jacket when fishing on a moving ship. It ensures your safety in case of unexpected falls or accidents.
b) Secure Your Equipment
Secure your fishing equipment to prevent accidents or damage caused by the ship's movement. Use rod holders or secure storage compartments to keep your gear in place.
c) Be Mindful of Other Passengers
Respect other passengers on the ship and maintain a safe distance when casting or reeling in fish. Be aware of your surroundings and avoid tangling lines with others.
d) Mind Your Surroundings
Be aware of your surroundings and stay clear of areas with moving parts or potential hazards. Follow the instructions of the crew and adhere to all safety protocols.
Tips for a Successful Fishing Experience on a Moving Ship, Boat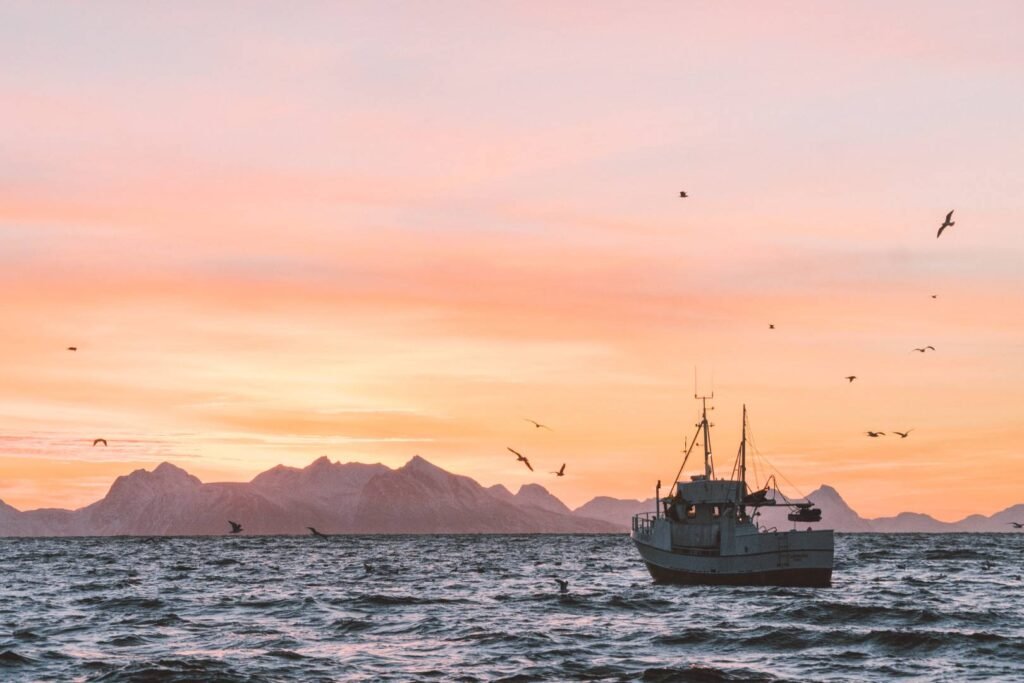 Here are some additional tips to enhance your fishing experience on a moving ship:
a) Observe and Learn
Pay attention to the behavior of other experienced anglers on the ship. Observe their techniques, bait choices, and casting styles to improve your own skills.
b) Stay Patient
Fishing on a moving ship may require more patience and persistence. Fish may be less active due to changing water conditions, so remain patient and adapt your techniques as needed.
c) Stay Hydrated and Protected
Fishing on a ship can expose you to sun and wind. Stay hydrated by drinking plenty of water and protect yourself from the sun's rays by wearing sunscreen, a hat, and polarized sunglasses.
Also Read: Fishing Vessels – Types of Fishing Boats
Conclusion
Fishing on a moving ship can be a rewarding and exciting experience. With the right equipment, techniques, and safety considerations, you can adapt to the challenges and enjoy a successful fishing trip. Remember to observe and learn from experienced anglers, choose the right fishing spot, and practice patience. Stay safe, have fun, and make unforgettable memories while fishing on a moving ship.
FAQs
1. Can I use the same fishing gear for fishing on a moving ship as I would for shore fishing? While you can use similar fishing gear, it is recommended to use heavier tackle and lines to handle the challenges of fishing on a moving ship.
2. Is fishing on a moving ship suitable for beginners? Fishing on a moving ship can be more challenging for beginners due to the vessel's motion. It is advisable to gain some fishing experience in stable conditions before attempting it.
3. Can I catch a wide variety of fish while fishing on a moving ship? Yes, fishing on a moving ship can provide opportunities to catch various fish species, depending on the location and water conditions.
4. Are there any restrictions on fishing while on a ship? Certain ships or areas may have specific regulations or restrictions regarding fishing. It is important to inquire about any rules or guidelines before engaging in fishing activities.
5. What should I do if I encounter rough weather conditions while fishing on a moving ship? In case of rough weather conditions, prioritize safety and follow the instructions and guidance of the ship's crew. It is advisable to secure your fishing gear and take appropriate measures to ensure your well-being.
You may also like,