Deciding between joining Freedom Boat Club and owning a boat is a personal choice that depends on individual preferences, usage patterns, and financial considerations. Freedom Boat Club vs. Owning a Boat: Which is Better? Let's find out
Both options have their advantages and drawbacks. Here's a comparison to help you evaluate which option might be better for you:
Freedom Boat Club
Cost Savings: Joining Freedom Boat Club can be more cost-effective than owning a boat. With the club, you pay a monthly membership fee that covers boat usage, maintenance, insurance, and storage. This eliminates upfront costs, ongoing expenses, and the responsibilities associated with boat ownership.
Variety and Flexibility: Freedom Boat Club offers access to a diverse fleet of boats, allowing you to choose different types of vessels based on your specific needs and preferences. The club's multiple locations also provide flexibility in terms of boating destinations.
Convenience: The club takes care of maintenance and repairs, saving you time and effort. You can simply show up, enjoy your time on the water, and leave the boat behind once you're done without worrying about cleaning or storage.
Social Community: Being a part of Freedom Boat Club gives you the opportunity to connect with other boating enthusiasts through organized events and activities. This sense of community can enhance your boating experience.
You may also like,
Owning a Boat
Unlimited Access: When you own a boat, you have the freedom to use it whenever you want, without any restrictions or reservations. You have complete control over your boating schedule and can embark on spontaneous trips.
Personalization: As a boat owner, you can customize and personalize your vessel according to your preferences. You have the freedom to equip it with specific features and amenities to suit your boating style.
Long-Term Investment: While owning a boat involves upfront and ongoing costs, it can be considered a long-term investment. If properly maintained, boats can retain their value, and you have the potential to sell the boat in the future.
Emotional Attachment: Many boat owners develop a strong emotional connection with their vessels. Owning a boat can provide a sense of pride, ownership, and a personal connection to the water.
Familiarity and Expertise: By owning a boat, you have the opportunity to develop in-depth knowledge and expertise in boat handling, maintenance, and navigation. This can be rewarding for individuals passionate about boating and those who enjoy being hands-on.
Advantages and Disadvantages of Freedom Boat Club vs Owning a Boat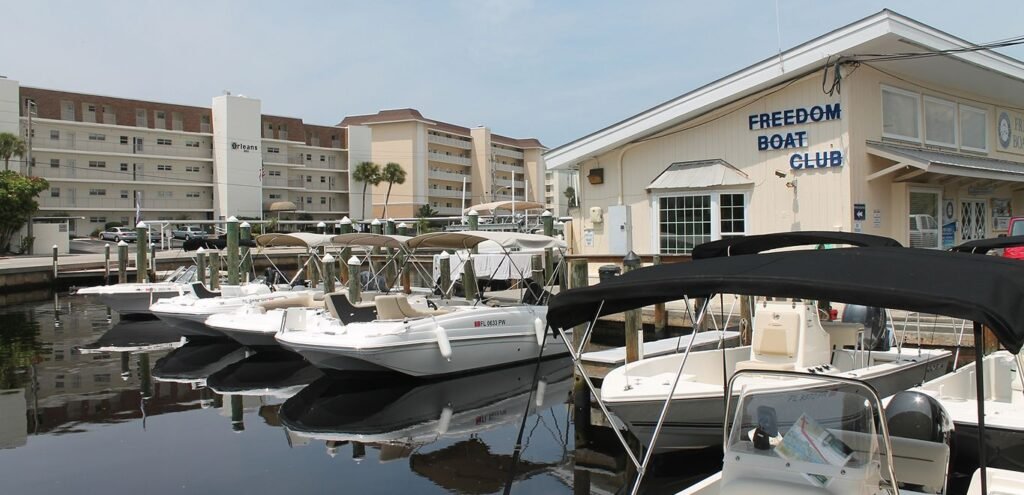 Freedom Boat Club and owning a boat are both great options for getting out on the water, but they each have their own advantages and disadvantages.
Freedom Boat Club
Pros:

Low upfront cost
No maintenance or storage fees
Access to a variety of boats
No need to worry about insurance or registration

Cons:

Hourly or daily rental fees can add up
Availability of boats can be limited
Not always the best option for people who want to use their boat frequently
Owning a Boat
Pros:

You have more control over your boating experience
You can use your boat whenever you want
You can customize your boat to your liking

Cons:

High upfront cost
Maintenance and storage fees can be expensive
Insurance and registration fees can be costly
You are responsible for any damage to your boat
Ultimately, the best option for you will depend on your individual needs and budget. If you are looking for a low-cost, hassle-free way to get out on the water, Freedom Boat Club may be a good option for you. If you want more control over your boating experience and are willing to pay the upfront costs, owning a boat may be a better choice.
Here is a table that compares the two options in more detail:
| Feature | Freedom Boat Club | Owning a Boat |
| --- | --- | --- |
| Upfront cost | Low | High |
| Maintenance and storage fees | None | High |
| Insurance and registration fees | None | High |
| Availability of boats | Limited | Unlimited |
| Customization | Limited | Unlimited |
| Control over boating experience | Low | High |
| Cost per use | Varies | Varies |
I hope this helps!
Ultimately, the decision between Freedom Boat Club and owning a boat depends on your specific needs, lifestyle, and financial situation. If you prioritize cost savings, flexibility, and convenience, Freedom Boat Club might be the better option.
However, if you value unlimited access, personalization, and the emotional connection that comes with owning a boat, then owning a boat may be more suitable for you.
Consider your boating frequency, preferences, and financial capabilities to make an informed choice.
You may also like,