Sea buckthorn, scientifically known as Hippophae rhamnoides, is a remarkable plant that thrives in harsh environments such as mountains, sandy soils, and coastal areas. Its vibrant orange berries are rich in nutrients and have been used for centuries in traditional medicine. One intriguing practice associated with sea buckthorn harvesting is the nocturnal collection of its berries. In this article, we delve into the reasons behind the enigmatic question: why is sea buckthorn harvested at night?
Sea buckthorn has gained significant attention in recent years due to its numerous health benefits and potential commercial applications. The plant is indigenous to several regions, including Europe and Asia, and its berries are a valuable source of vitamins, minerals, antioxidants, and fatty acids. In traditional medicine, sea buckthorn has been used to treat various ailments, ranging from digestive disorders to skin conditions. With its rising popularity, the methods and timing of harvesting sea buckthorn berries have become a subject of interest.
The Mystique of Harvesting Sea Buckthorn at Night
Understanding the Plant's Physiology
To comprehend why sea buckthorn is harvested at night, it is crucial to delve into the plant's physiology. Sea buckthorn berries are known to be delicate and can easily rupture upon contact. Additionally, their skin is thin and prone to oxidation, which can degrade the quality of the berries and reduce their nutritional value. Hence, harvesting sea buckthorn during the daytime when temperatures are high and sunlight is intense can result in increased spoilage and a diminished product quality.
Preserving the Nutritional Value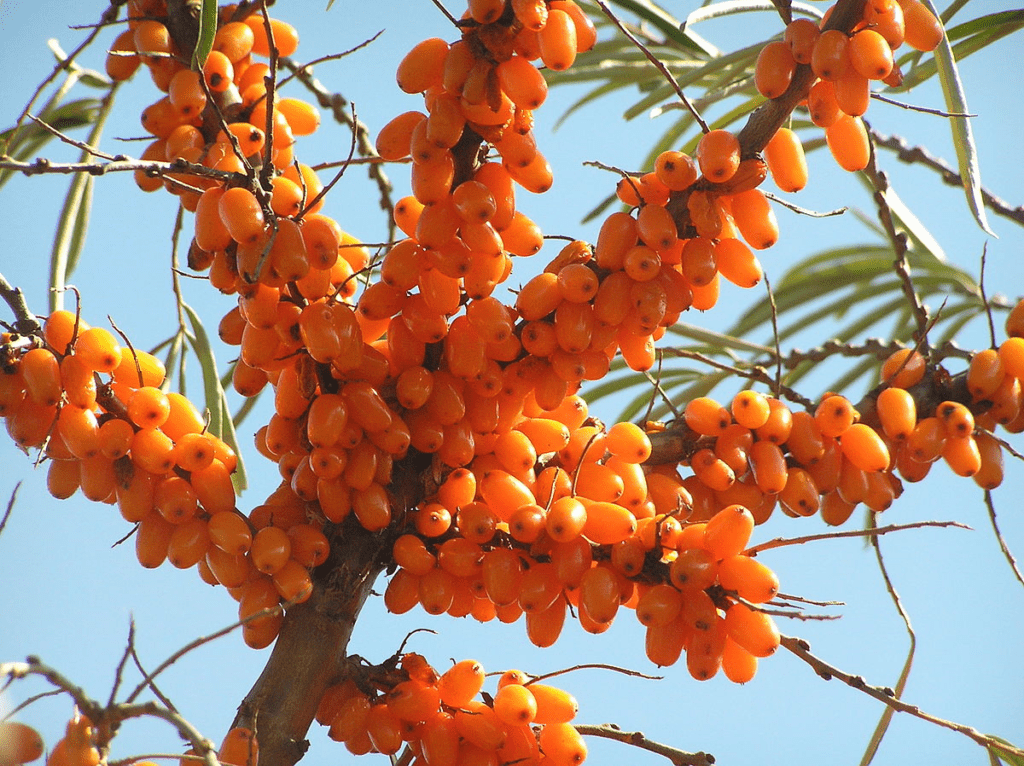 The nutritional value of sea buckthorn berries is a key factor in their popularity. These berries are known for their high content of vitamins, particularly vitamin C, vitamin E, and beta-carotene. Furthermore, sea buckthorn berries contain essential fatty acids, such as omega-3, omega-6, omega-7, and omega-9. Harvesting sea buckthorn at night helps to preserve the nutritional integrity of the berries by minimizing exposure to sunlight and heat, which can lead to nutrient degradation.
Preventing Oxidation
Oxidation is a natural process that occurs when compounds in fruits and vegetables react with oxygen. When sea buckthorn berries are exposed to oxygen, their vibrant orange color can fade, and the beneficial compounds within them may degrade. By harvesting sea buckthorn at night, when the oxygen levels are typically lower, the berries can be preserved in a state closer to their natural condition. This not only helps maintain the berries' attractive appearance but also ensures that their nutritional compounds remain intact.
Enhancing Shelf Life
Sea buckthorn berries are delicate and have a relatively short shelf life. The practice of harvesting sea buckthorn at night helps extend the berries' shelf life by reducing the risk of spoilage. By avoiding high daytime temperatures and direct sunlight, which can accelerate the growth of bacteria and mold, sea buckthorn growers can ensure that the harvested berries remain fresh for a longer duration. This is particularly beneficial for commercial purposes, allowing the berries to be transported and stored without significant losses in quality.
Harvesting Efficiency
Harvesting sea buckthorn at night also offers practical advantages in terms of efficiency. The cooler temperatures during the night make the harvesting process more comfortable for the workers, especially in regions with hot climates. Additionally, the absence of direct sunlight allows the workers to focus solely on the task at hand without being hindered by glare or excessive heat. This can lead to higher productivity and improved overall quality of the harvested berries.
Tradition and Cultural Beliefs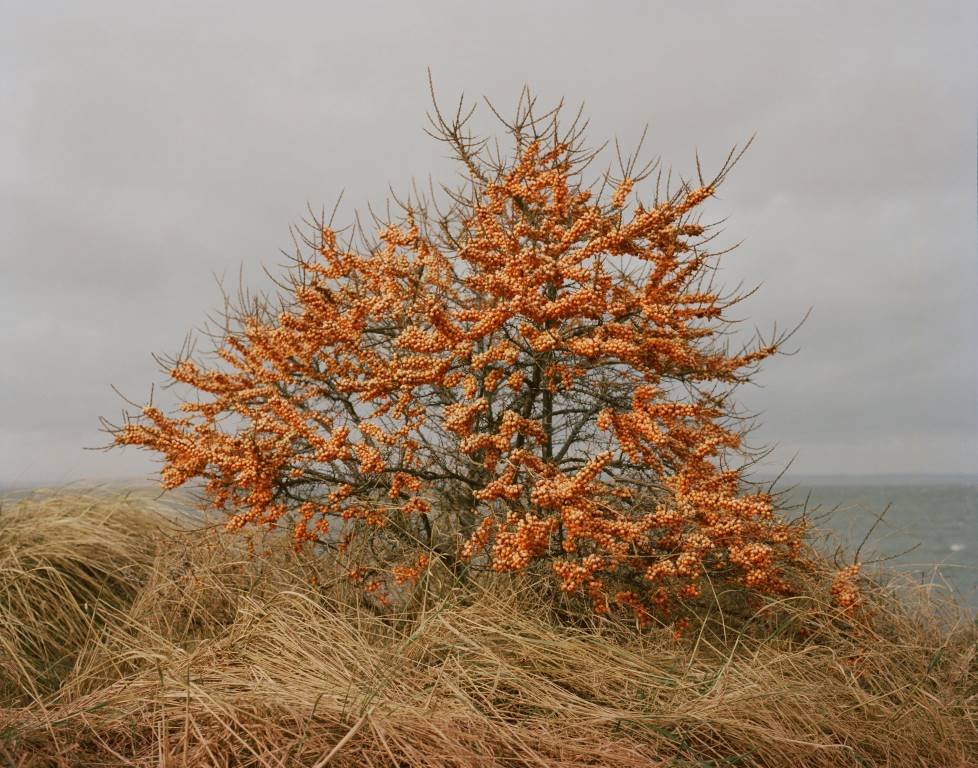 In certain regions where sea buckthorn has been harvested for generations, the practice of collecting the berries at night may be rooted in tradition and cultural beliefs. These traditions often carry a sense of reverence for the plant and its natural cycles. While these cultural beliefs may not have a scientific basis, they play a significant role in shaping the harvesting practices followed by local communities.
Also Read The Magic of Sea Buckthorn
FAQs about Harvesting Sea Buckthorn at Night
1. Is there scientific evidence supporting the practice of harvesting sea buckthorn at night? While traditional knowledge and anecdotal evidence support the practice, scientific studies specifically focused on the benefits of nocturnal sea buckthorn harvesting are limited. However, research on post-harvest handling and the effects of sunlight and temperature on fruit quality lends credibility to the practice.
2. Can sea buckthorn be harvested during the daytime? Yes, sea buckthorn can be harvested during the daytime. However, the timing and environmental conditions can significantly impact the quality and shelf life of the harvested berries.
3. Does harvesting sea buckthorn at night affect the yield? Harvesting sea buckthorn at night does not generally affect the yield of the berries. The plant produces the same amount of berries regardless of the harvesting time, but the quality and nutritional value of the berries may be better preserved when harvested at night.
4. Are there any alternatives to harvesting sea buckthorn at night? Yes, there are alternative methods to preserve the quality of sea buckthorn berries. These include using shading techniques during daytime harvesting, rapid chilling of the harvested berries, and immediate processing to minimize nutrient loss.
5. Are there any specific tools or equipment used for harvesting sea buckthorn at night? The tools and equipment used for harvesting sea buckthorn at night are similar to those used during daytime harvesting. These typically include handheld or mechanized devices for collecting the berries, such as combs or rakes, along with containers or baskets for storage.
6. Can sea buckthorn be harvested mechanically at night? Yes, mechanized harvesting of sea buckthorn at night is possible. However, careful consideration must be given to the design and implementation of the harvesting machinery to minimize damage to the delicate berries.
Conclusion
The practice of harvesting sea buckthorn at night holds several advantages, ranging from preserving the nutritional value and vibrant color of the berries to extending their shelf life. By avoiding the detrimental effects of sunlight, heat, and oxidation, growers can ensure that the harvested sea buckthorn berries maintain their quality and appeal. Additionally, harvesting sea buckthorn at night offers practical benefits such as enhanced efficiency and improved working conditions for laborers. While scientific research specifically focused on nocturnal sea buckthorn harvesting is limited, the anecdotal evidence and traditional knowledge surrounding the practice contribute to its widespread adoption.
As the popularity of sea buckthorn continues to grow, it is essential to strike a balance between traditional practices and scientific advancements. Further research into the effects of different harvesting techniques and environmental conditions on sea buckthorn berries can provide valuable insights for growers and consumers alike.
Ultimately, whether sea buckthorn is harvested at night or during the day, the focus should remain on preserving the plant's remarkable qualities and harnessing its immense potential.