A car carrier or car carrier ship is a vessel that has been designed for the transportation of either just cars, or a combination of cars, trucks, buses and other wheeled vehicles. Car carriers are a type of RoRo ships – which means Roll-On, Roll-Off, as this is how their cargo is loaded and unloaded.
Car carrier are special RoRo ships, which are designed for the transport of cars. They are often referred to as Pure Car Car Carriers (PCC) or Pure Car And Truck Carriers (PCTC).
Want to know more about car carriers and car truck carriers? There's more to learn so keep reading!
Everything you need to know about car carrier ships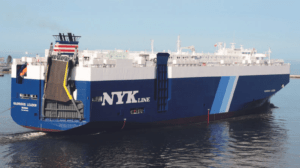 Different types of car carriers
There are a number of different types of car carriers, all of them falling under the category of RoRo ship, encompassing everything from a cargo ship to a ferry to a vessel that transports military vehicles such as tanks.
As we've said, car carrier ships fall under the category of RoRo ship, and as we've seen, there are PCC and PCTC vessels, but what else is out there and what do all these mean exactly? Let's break it down.
Pure Car Carrier (PCC): A vessel used to only transport cars, typically new vehicles to their destination market. For example, Japanese cars that are to be sold in the United Kingdom.
Pure Car Truck Carrier (PCTC): A vessel used to transport any kind of four-wheeled vehicle from one port to another. These could be new cars and trucks, or even tractors and other plant machinery.
Container Ship and RoRo Ship (ConRo): A vessel that is a combination of both a traditional container ship and a RoRo ship. These are designed to carry both shipping containers and wheeled cargo. In some vessels, there are such arrangements where the vessel is divided into 2 parts, the underdeck of one side has cell guides wherein the containers can be loaded and the other side underdeck has all arrangements for carrying cars or other such vehicles. Full cargo carrying space on deck is used for carrying containers.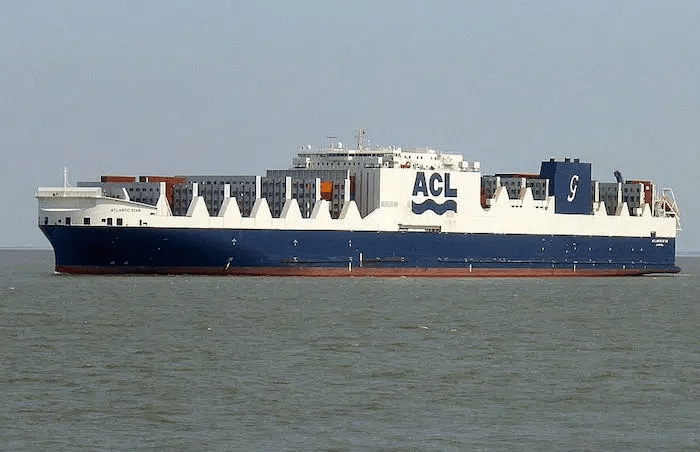 General Cargo and RoRo Ship (GenRo): A vessel that is a combination of both a regular cargo ship and a RoRo ship. These are generally smaller in size and capacity than a ConRo ship and carry…you guessed it, general cargo and wheeled cargo.
RoPax ship: A vessel that transports cars and other small vehicles but also allows for passengers onboard. If you're thinking that this sounds like an industry term for a ferry, then you'd be right. It's basically a ferry! ROPAX is an acronym for roll on/roll off a passenger. It is a ro-ro vessel built for freight vehicle transport with passenger accommodation. The vessels with facilities for more than 500 passengers are often referred to as cruise ferries.
The largest Pure Car Carrier (Höegh Target) can transport up to 8500 cars on 14 different decks and is intended for trade from East Asia to Europe. This so-called New Horizon class is almost 200 meters long and 36 meters wide and is therefore not the longest car transporter despite the largest loading capacity.
Car carrier design and build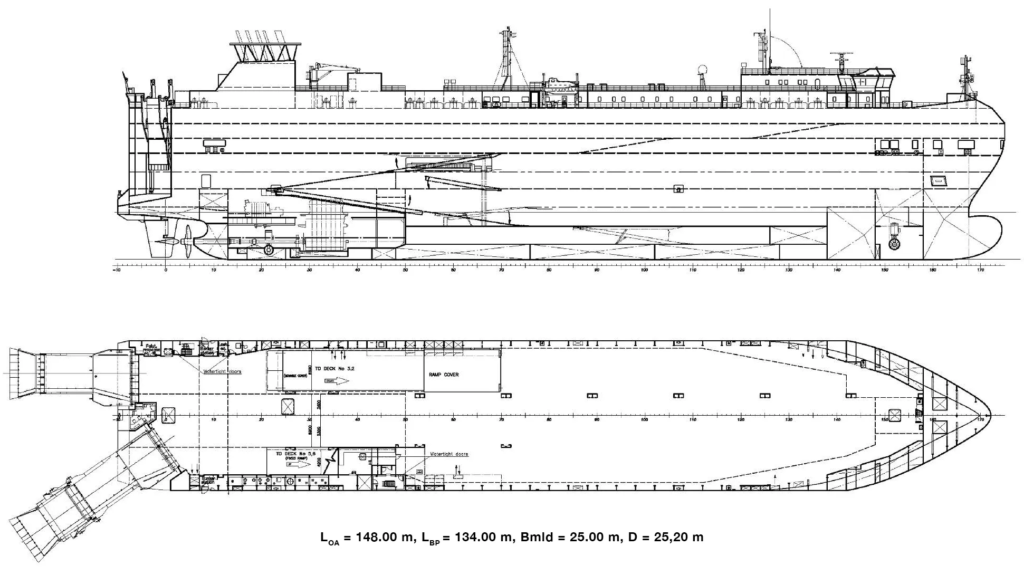 Typically this is done by ramps. A whole lot of ramps. These ramps may be located at the stern (back) of the vessel or at the bow (front.) They might also be situated at the sides of the ship. In addition there may be ramps inside the vessel and hoistable car decks.
A detailed pictorial representation of Ramps of car-carriers is compiled below to give you an Idea of Ramps being used onboard Car carriers to load/unload cars through them.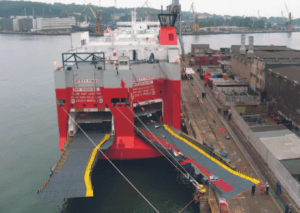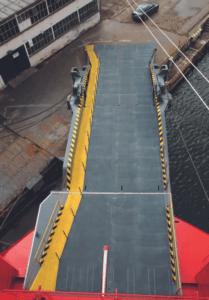 This allows the cargo – AKA the cars or other vehicles to be easily driven onto the ship and then off again at the destination port or terminal, or even just the other side of the river in the case of a RoPax vessel
Car carrier capacities
While cargo ships, container vessels, and container feeders measure their capacity for cargo in TEU, a car carrier is a little different. TEU means Twenty-foot Equivalent Unit and is a measure of volume in units of twenty-foot long shipping containers. Therefore one 20-foot container equals one TEU. Read more here Everything about Container Ships
Clearly this is irrelevant when the cargo is not in shipping containers and is a car or a truck. That means a different standard of measurement is required. And so we have the LiM – or measured in Lanes in Meters.
To calculate the amount of cargo a car carrier can transport, the length and breadth of the lanes where the vehicles are placed is multiplied by the number of decks in that vessel.
Advantages of a ro-ro ship
A ro-ro ship offers a number of advantages over traditional ships. Some of the advantages are as follows:
For the shipper, the advantage is speed. Since cars and lorries can drive straight on to the ship at one port and then drive off at the other port within a few minutes of the ship docking, it saves a lot of time of the shipper.
It can also integrate well with other transport development, such as containers. The use of Customs-sealed units has enabled frontiers to be crossed with the minimum of delay. Therefore, it increases the speed and efficiency of the shipper.
The ship has also proved extremely popular with holidaymakers and private car owners. It has significantly contributed to the growth of tourism. A person can take his car from one country to another by the sea with the help of a ro-ro vessel.
How are cars loaded in Car carriers/ RORO Ships?
On this cargo ship mainly cars and trucks are loaded, but also buses and tractors can be shipped without problems. Loading and unloading a car transporter poses a particular challenge, as each vehicle has to be loaded and secured individually.
When the ship arrives at the port, a large team of drivers is already waiting at the terminal. The keys are usually already in the car and the respective driver only has to bring the vehicle on board or off board. A detailed video on How Cars are loaded on RORO – Car carrier ship is explained below
You may be wondering on how the vehicles carry on a ship without damaging them. Obviously, when you have ordered a brand new vehicle, you will not be ready to accept a damaged vehicle. To make sure cargo onboard is secured, both shipping lines and seaports do a hard job!
Cargo Operations on Car Carriers / RORO Ships
Generally, the vehicle stowage plan is prepared by the shipping line, Of course, the Chief Officer of the ship has a big say in the stowage plan. He is responsible for loading cargo without harming the stability of the ship. Once the approved stowage plan is shared with the loading seaport, the port will arrange stevedores for cargo loading/discharging operation. Unlike in other cargo operations, there will be two sets of drivers known as stevedores to drive the vehicles from the ship. One set of drivers contain the most experienced or skilled drivers.
Normally, vehicles park with a 5-10 cm buffer to buffer distance onboard as well as at yards. This is to utilize the available space efficiently. Hence, when taking a vehicle from the parked slot, the driver has to be extra careful not to hit the vehicle on another. The most skilled drivers drive the vehicle from its parked location to a few centimeters ahead to separate the vehicle from a vehicle slot. This is called "Break Out". Once the vehicle breaks out drivers from another set of stevedores drive the vehicle to the yard and park it at the allocated location.
Driving a vehicle inside the ship decks is not an easy task!. Stevedores do a great job of driving the vehicle safely. And there are stevedores called as "Signal Man". They support drivers being their eye to see the surrounding of the vehicle when breaking them out. Because drivers cannot open the shutters or unfold side mirrors of the vehicle. They drive the vehicle as per the instruction given by the signalman.
Once vehicles are parked onboard by the drivers with the support of signalman, Vehicles should lash so they won't move while on water. There are lashmen to do the lashing. Lashmen lash the vehicles to the lashing points on decks. There are a lot of guidelines on lashing from a selection of lashing material to lashing points to make sure vehicles won't get damaged during the operation.
Safety Measures during Voyage
Deck watchman performs fire patrolling at night and walks through all the main spaces in the ship and looks for safety hazards whether it's related to the ship itself, cargo, or passengers.
Cargo units are usually lashed with 4 chains, but If adverse weather conditions are expected, the master decides if extra lashings are needed to prevent cargo shifting, which could result in damage to cargo or the ship. Any concerns about cargo safety must be reported to the master.
Did you Know? Stevedores of car carriers cannot wear watches, rings, or any other accessories as they could make scratches on the vehicle's body.
Sea Routes of car carriers – Transportation
The PCC's are used in the worldwide maritime trade and bring new and used vehicles such as those of the German manufacturers from Europe to America and from there import models of the North American manufacturers back. The large PCC's do not only operate between two ports, but often dock at more than 10 different ports before they return.
In the individual ports, parts of the cargo are unloaded and other vehicles are brought on board, which means an enormous logistical effort and requires precise planning. The largest port in Europe specialising in the handling of cars is the Belgian port of Zeebrugge.
With approx. 2.8 million cars handled annually, it lies ahead of the BLG terminal in Bremerhaven (2.3 million). The somewhat smaller PCC's, which can only load a few hundred cars, are also used in feeder traffic or inland navigation.
Principal Sources of Danger in Car Carriers
Though Ro-Ro/ Car carriers vessel's make a very small proportion of the Merchant marine tonnage, there have been many accidents involving these, giving rise to far worse consequences. It is very important to understand the "Sources of Danger "which leads to such petrifying situations. These sources of danger don't only affect the safety of car carrier vessels but also the passenger/crew in it.
The unacceptable condition of the consignment constraining it to be properly lashed for Sea. Example: insufficient number and incorrect positioning of securing points, Weak securing points etc.
The free surface effect in tank vehicles and tank containers which are slack;
Poorly maintained ramps, lifts and bow and stern doors;
Poorly maintained, inadequately illuminated or badly planned decks;
Wet Decks;
Vehicles being moved negligently on vehicle decks and ramps;
The reversing of road vehicles on vehicle decks and ramps;
Insufficient or incorrectly applied lashings or wrong use of Lashing equipment or of inadequate strength having regard to the mass and centre of gravity of the vehicle and the weather conditions likely to be encountered during the voyage;
Free play in the suspension of vehicles;
The history of the car carrier ship
Before special freighters were developed for the transport of cars, cars were shipped with conventional general cargo ships and the ships were loaded and unloaded with cranes. The cars were often taken along as additional cargo on so-called banana steamships.
The inadequate load safety, both for the vehicles and for the main load, and the increasing demand for transport options for large numbers of vehicles, however, led the shipping company Wallenius to develop specialized ships. It was not until the early 1950s that the ship "Jakara" was converted into a car bulk carrier and the first real car transporters (the Rigletto and Traviata) were delivered.
In 1958, the Blohm+ Voss shipyard developed special suspension decks, which were installed in the following years on around 250 cargo ships in order to equip them for the transport of cars. This hanging system first allowed an optimal use of cargo space for the transport of cars, but the ships were still loaded and unloaded with the ship's own cranes.
Since these ships mainly shipped VW Beetles to America, the hanging decks for the return voyage were pulled to the hold ceiling and the cargo holds filled with grain.
Before the Pure Car Carrier became the industry norm, the transportation of cars for long haul purposes was undertaken by bulk carriers such as Panamax and Supramax vessels which handled loading and unloading operations with onboard derricks or cranes. The vessels were equipped with portable car platforms which looked like this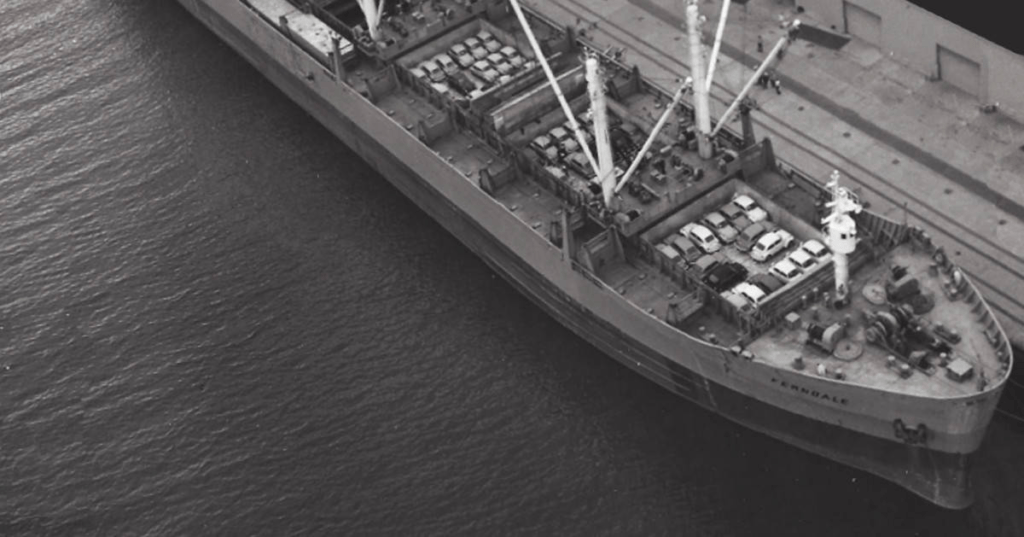 However, global demand for cars from other countries and manufacturers meant that a different solution was required and thus the purpose-built PCC was born.
And surprisingly this all happened as long ago as the 1950s, when ships that were specifically designed for the transportation of cars by sea were developed, by adding extra decks to the design of the vessel.
Indeed, the first bow door on a RoRo ship was seen on the Aniara which launched in 1963. More innovations soon followed including the addition of twelve decks that could accommodate more than 6000 cars, as well as the aforementioned PCTC.
Marine Accidents – Safety of Car carriers – Roro Ships
Commercially Ro-Ro's have always been successful due to its flexibility, integration and operational speed. Despite being commercially successful. Ro-Ro's have always been criticised for its design and is also said to be one of the reasons for the disturbing accidents involving Ro-Ro's. Mainly the concerns are from the safety point of view. Some of them are listed below:
The lack of internal bulkheads
Cargo access door
Stability
Low freeboards
Cargo stowage and securing
Life-saving appliances
The crew
As per IMO's circular released in January 2017, nearly 2/3rd of the lives lost at sea was from the accidents of Ro-Ro's only. This shows that the effect of Marine accidents involving Ro-Ro's has enormous consequences. Many steps were taken by IMO in order to reduce these accidents and some of them left an implacable effect on this industry too. Improving safety onboard Ro-Ro's has been one of the major topics of discussion.
One of the studies on causes of Major accidents reflects that shift of cargo and operational faults has been the major accidents of all these accidents. These accidents were the result of improper implementation of the regulations and through Human errors.
From heavy lift vessels to pilot boats
There are so many fascinating vessels plying their trade across the world's oceans that we can't wait to explore more of them. From the Heavy Lift Vessel (HLV) to cruise ships to the Very Large Crude Carrier (VLCC) to fishing vessels, we're dedicated to bringing you the facts!
Meanwhile, why not read more about Top 10 Biggest LNG Ship Carriers